CPU Block - Alphacool NexXxoS XP³ Light - Acetal Edition
The CPU block, like most of the internal packaing arrives in a fairly nondescript box labled 'NexXxos CPU-Cooler when in actual fact what you are getting is the Alphacool NexXxoS XP³ Light - Acetal Edition.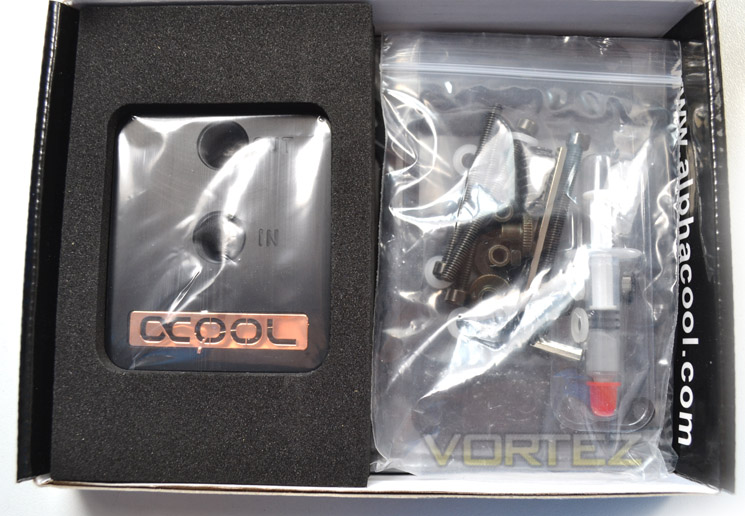 Opening the box up we find the components are very neatly organised with the CPU block protected by both a foam surround insert and the brackets (AMD and Intel), screws, fittings and paste all packaged separately in little baggies.
Alphacool have included a small Allen key to allow ease of fitment of the block however as we will see in the fitting section, the instructions left a lot to be desired.
The CPU paste included should be enough for a couple of applications however, with no recognisable labels, we could not discern which type of paste this was.
The block top is full Acetel (Delrin) material which is perfect for a CPU waterblock as it is rigid, very strong yet lightweight.
The base of the CPU cooler has a protective strip which must be removed before installation. The plastic strips serves to protect the CPU base during transit to ensure it reaches you in perfect condition.
As you can see, the mirrored finish of the block is extremely shiny however, not perfect as even with the protective back, we found a few tiny scratches which was a shame but unlikely to affect performance.
Opening the block up we find the impingement section forms part of the Acetel and cannot be modified. The water will be pumped through the impingement section directly onto the centre of the baseplate with heated water escaping towards the edge of the block through the outlet.
The copper base is very similar to many other waterblock designs on the market having a mass of 1024 fins. This makes for an increased surface area to effectively dissipate heat from the CPU. The finish of the internals is less than perfect with a great deal of staining.
Let's move onto the radiator...