Introduction

Product on Review
:
Ryzen Threadripper 1950X
Manufacturer:
AMD
Street:
£980 GBP (Inc. V.A.T.) / $999 USD
Ever considered that there's not enough choice in the High End Desktop Market? Thought to yourself that ten CPU cores just isn't enough for your home video rendering rig? Need more high-speed PCI-Express lanes than you'll see this side of a server environment? Well then rejoice, for
AMD Ryzen Threadripper
is finally here.
Ryzen Threadripper is Intel's first true competition for High End Desktop (HEDT) market share, and is a subtle evolution of AMD's Ryzen mainstream desktop platform. The Threadripper range straddles the vast gulf between 8-core performance-class Ryzen and 32-core server-class EYPC CPUs, exploiting a considerable number of CPU cores at prices which make them highly competitive on a cores/dollar metric.
However, before we get into the review properly we need to lay a little bit of groundwork. As you might be aware
Vortez.net
was not one of the sites supported by AMD for this launch, to the extent that we were not provided with an NDA to sign or embargo time for reviews. This is one of the reasons why we have not published teasers or videos of the exceptionally well appointed review kit. We have however been able to secure the flagship Ryzen Threadripper X1950 from unofficial sources, and similarly have been provided with an Intel Core i9 7900X to test it against. These circumstances will not affect our conclusions, but providing context for transparency's sake is appropriate.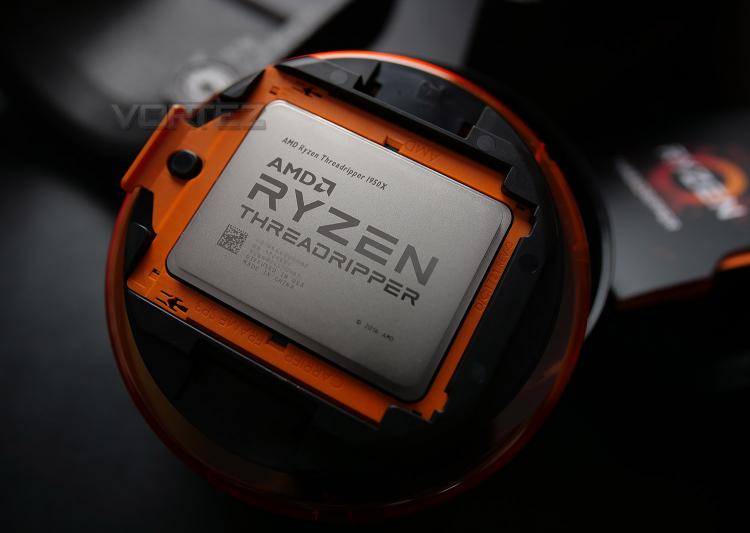 AMD are launching Ryzen Threadripper today with two premium models, and have announced a further SKU with fewer cores which will be available at the end of this month (August 2017). These three CPUs are equipped with eight, twelve or sixteen cores, and further differentiate themselves from mainstream Ryzen models by making additional PCI-Express lanes available from the CPU and supporting quad-channel memory, clearly marking themselves out as HEDT chips.
Alongside Threadripper CPUs come their complementary X399 motherboard platform, exclusive to these new chips. Partners such as ASUS, MSI, GIGABYTE and ASRock will have at least one model available on launch ready to exploit the potential of Threadripper. Much like Intel's X299 motherboards, launch models have proved to be premium in both price and features list, starting at around $350 in the US (excl. Tax); as the platform matures more affordable options may become available, especially to pair with the platform entry-point X1900 CPU.
By naming their chipset X399 AMD are repurposing Intel's naming scheme for HEDT motherboards, which is just a touch exasperating and may make for interesting times when Intel update their HEDT motherboards.
Today we're reviewing the Ryzen Threadripper 1950X, a 16-core behemoth which supports Simultaneous Multithreading for up to 32 independent threads and is priced at $999. Its MSRP is identical to that of Intel's 10-core, 20-thread Core i9-7900X, making them ideal sparring partners in our tests. The price point will put the platform out of reach of mainstream and enthusiast gamers whose sole requirement is raw FPS, but all those additional cores would likely go unused regardless. Heavy mixed workloads including video rendering and other prosumer use cases will be where both Threadripper and Core X are likely to thrive, and its this burgeoning Prosumer market which will relish the new options now available.
Were we to be judging the two CPUs blind AMD would have the win based on core and thread count alone, but differing architectures rarely behave in a way which would make such elementary conclusions reliable.