Software
The ASUS ROG Strix Evolve utilises the
ROG Armoury
in pretty typical fashion, giving you all of the features you require in a well-optimised piece of software.
Upon the initial launch, youíre presented with the option of swapping the functions of any of the mouse buttons. Itís unlikely you would want to swap any on the top, but the left and right could be useful to some users.
The performance tab of the ROG Armoury offers a host of variables, allowing the adjustment of almost everything. Itís worth being aware that this page is set up in an odd fashion, with button response and polling rate both being set at a lower parameter than the mouse is capable of.
Lighting is next on the customisation tabs, allowing 4 different effects and a full range of 16.7 million colours from the RGB range. The Strix Evolve only features single-zone RGB, so the effects are a little more limited than some of their higher-tier products; this can cause a knock on effect when trying to use the Aura Sync, limiting what the other products are then capable of.
The calibration section is done a little differently to other ROG mice tested recently; where you select the preset surface that best matches the one youíre using. There wasnít a noticeable difference between the presets, but we trust ASUS have made small tweaks to ensure the best possible response and performance.
The Macro tab allows the user to record an unlimited sequence macro, combining the keyboard and mouse. Youíre then able to assign the recorded macros to a button on the mouse.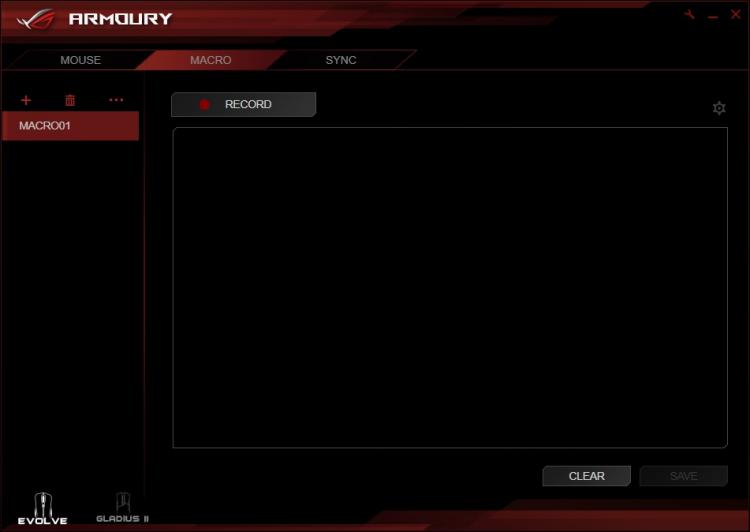 The Sync section relates to ASUSí Aura Sync, marrying up all of your compatible hardware into one harmonised lighting show. As mentioned earlier, the options are slightly limited due to the Strix Evolve only housing a single LED for the lighting effects.
Finally, a recent addition by ASUS to their Rog Armoury is the ability to record your mouse usage, itís pretty basic but it gets the job done effectively.