Introduction
Product on Review:
ASUS TUF Gaming K5
Manufacturer:
ASUS
Street Price:
GBP £69.98 / USD $79.99 / AU $129.00
Here in 2019 we're all too aware of keyboards costing us the best part of £200 for a feature-packed, mechanical, RGB keyboard that promises to improve your gameplay, but that price tag almost demands that you use the keyboard on a daily basis to feel any kind of worth from it. What if you play much less often, or just have less money to throw at your peripherals? Today we're looking at something much more wallet-friendly from ASUS; the TUF Gaming K5.
The ASUS TUF Gaming K5 rounds out the trio of
ASUS TUF Gaming headset
and
ASUS TUF Gaming mouse
to bring affordable gaming to your desk with all three of the items costing less than a typical expensive keyboard.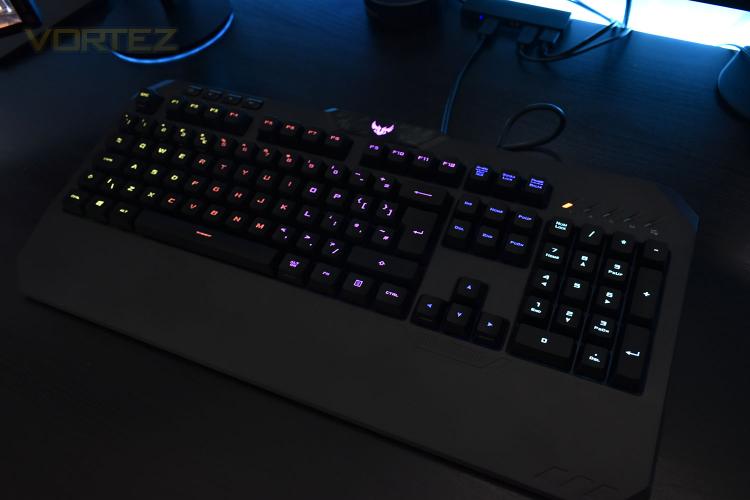 While the keyboard may arrive at a fraction of the cost, ASUS claims that the K5 offers uncompromising performance and durability. We find "Mech-Brane" key switches, with a feel designed to mimic the more expensive mechanical boards on the market without the associated expense, there's also 24-key rollover to ensure all keypresses are registered, 1000Hz polling rate, RGB backlighting and a built-in wrist rest for optimal comfort.
We've already seen similar approaches from Razer and ROCCAT with the
Cynosa Chroma
and
ROCCAT Horde AIMO
at around the same price point, so will the ASUS equivalent fare well in our testing? Let's find out.
ASUS on the TUF Gaming K5:
TUF Gaming K5 keyboard delivers uncompromising performance and exceptional durability. Equipped with TUF Gaming Mech-Brane key switches that are engineered to deliver crisp tactility with every press, get ready to experience an all-new gaming sensation. The switches are housed in a spill-resistant frame that's fortified by a specialized coating and validated for tough duty. K5 also features customizable Aura Sync RGB lighting for personalized style, dedicated media keys positioned on the left for easy access, and an integrated ergonomic wrist rest for extended comfort.