Clearance – CPU Cooler, Graphics Card, Cable Management
Essential to building PCs is the clearance limitations inside a case. Identifying these restrictions helps to acknowledge which hardware is compatible and which isn't.
CPU Cooler
More than enough space for flagship CPU coolers
The width of 780T presents generous allocation for big CPU coolers. Flagship models tend to have a height of 160-170mm and for demonstration purposes our Noctua NH-D14 above easily fits inside the chassis. Corsair actually state there is up to 200mm of space here – so even the biggest of solutions will fit without any compatibility issues.
Graphics Cards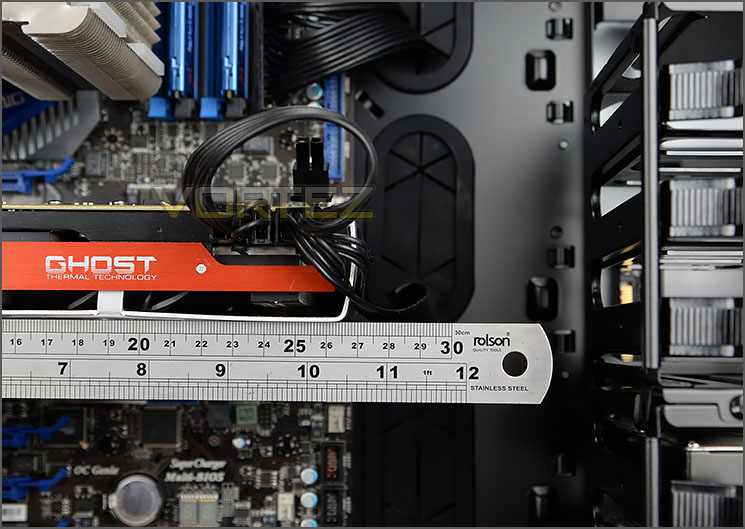 Long graphics cards are catered for
Turning our attention to the graphics card clearance there is once again, plenty of space. The HDD cages are the most immediate obstruction – with these cages removed we have unlimited space for any card currently on the market but with the cages installed there is approximately 355mm (>13").
Since there are no other obstructions further down, adding in multiple graphics cards presents no issues in this regard either.
Cable Management
Huge clearance for cable management
The space behind the motherboard tray is essential for practising good cable management inside the chassis. We're pleased to report there is approximately 3cm (1.25") at the tightest point and not only this but there is an area in the lower section which supplies even more space and a large cavity to store all the cables out of sight.
We've reviewed hundreds of cases at Vortez and 780T certainly seems to be offer the most clearance behind the motherboard tray for arranging cables – a big thumbs up!
Over the page we'll look at the radiator compatibility
.