Closer Look
The pump features a silver border, inside of which is a large Corsair logo against a black background. The Corsair logo glows, along with the inner and outer edge of the silver border.
To ensure there's enough juice to spin the fans, power the RGB LEDs and pump the fluid, there's a SATA power connector directly wired into the pump head, along with a pair of 4-pin fan adaptors and a 3-pin fan header to allow the motherboard to monitor the pump speed.
In regards to the Corsair LINK software monitoring certain parameters, the micro-USB connection on the side connects to a USB2.0 header on the motherboard. The connection between the pump and PC allows the user to monitor fluid temperature, individual fan speeds and the pump speed, along with adjustment of the RGB LEDs.
The copper coldplate is roughly 50mm across, which should be more than big enough for all but the largest of CPU heatsinks (Ryzen ThreadRipper springs to mind). The coldplate arrives with a pre-applied, pre-determined layer of thermal interface to ensure the best possible thermal conductivity between the CPU and the liquid behind. We always remove this and use Noctua's NT-H1 thermal paste to ensure our results remain comparative.
The two 140mm PWM fans aren't RGB enabled, but they do feature magnetic levitation, which is almost as cool, with the added bonus of being quieter and able to push a higher volume of air.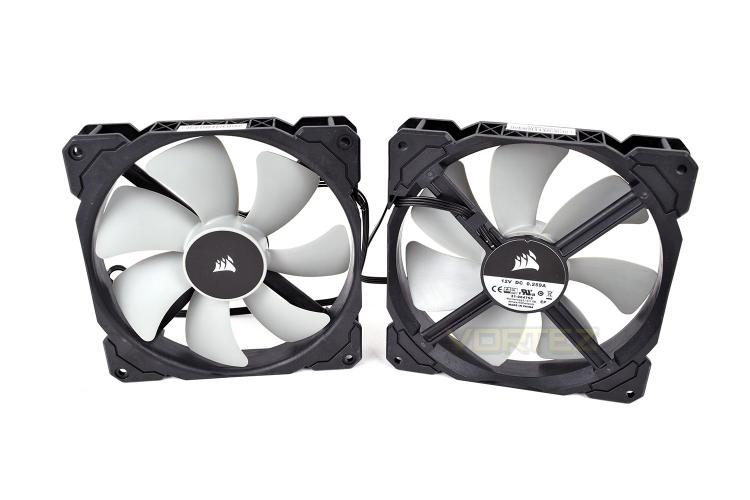 We would've liked to have seen some kind of rubber isolation between the mount of the fan and the body. Perhaps Corsair feel this is unnecessary with the magnetic levitation helping to reduce vibrations. We saw this on the Corsair ML120 Pro RGB fans reviewed last year.