Conclusion
CORSAIR are currently a mighty presence towards the highest end of the mainstream mechanical keyboard market, having cultivated a distinctive premium looks and feature set that has migrated down to their membrane models over time. The K60 isnít their first crack at an Ďaffordableí mechanical keyboard, but it is perhaps their most significant thus far.
The aesthetics and build quality are stunning for a <$90 design, and debuting CHERRYís VIOLA switches appears to have netted them an initial competitive advantage. Itís still early days for this switch but initial impressions are great, albeit recognising that the feel is still distinct from any MX switch you might have tried.
Credit too must go to the lighting, and COSAIRís iCUE custom software. The combination is fantastic for imprinting your own personality into your gaming set-up, and itís extremely easy to use effectively. The underglow effect really works, and might even edge out the deluxe K100 RGB in many preference lists.
CORSAIR have refined the iCUE user experience very effectively, nearly eliminating the intimidation factor every new user feels when approaching software for the first time. A huge part of that is how quickly itís possible to change things in large or subtle ways, without pausing to Ďloadí lighting profiles or save effects.
Users for whom the keyboard is a statement piece might prefer the full-size K60 RGB PRO SE variant with standard keycaps. The low profile ones look a little odd with the amount of switch housing exposed, although that is very much personal preference.
More broadly, CORSAIRís style and build quality is once again on full display, now very far down their product stack. Despite being brand new the VIOLA switches donít detract from the experience, and only take a little getting used to if you already have a background with MX. Keycap compatibility is also a definite plus.
Assessed against a US$89.99 price point that is pretty much where our assessment would end. However the UK and EU pricing is considerably higher even after you consider V.A.T., hitting £109.99 and Ä139.99 respectively. This same discrepancy is present across the entire K60 PRO range.
In this region that puts it up against much more fully-featured mechanical keyboards from major competitors, such as the ROCCAT Vulcan 100. Itís also much more expensive than the MSI Vigor GK50, a feature-light low profile model that utilises Kailhís low profile switches.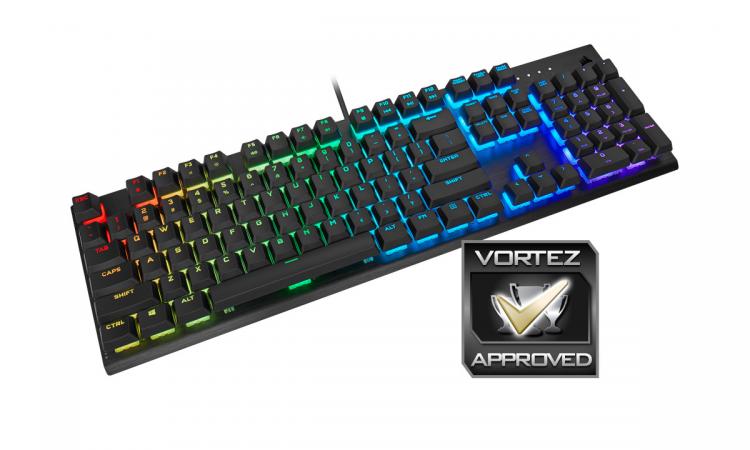 More critically, it comes within £10 of their own K68 RGB, another mechanical keyboard design but with a comprehensive selection of Cherry MX RGB switches. While indisputably more attractive, you still lose out on a huge number of popular features.
That being said, for many users those features will be approaching irrelevant. They instead need a robust and good looking keyboard at home in front of a gaming PC or in an office, as affordably as possible. The K60 RGB PRO is that keyboard.
All in all, the K60 RGB PRO earns the Vortez Approved award, but that doesnít tell the whole story. Itís one of those rare designs that fits a niche which some will dismiss, but others leap on immediately as utterly perfect
for them
. At the US price of $89.99 it seems like an absolute slam dunk, but regional variations have made it a more difficult recommendation without strongly contemplating cheaper alternatives first.
Caught in what might appear to be no-mans-land in terms of price and features, the K60 RGB PRO is a mechanical gaming keyboard that has a high quality robust design similar to CORSAIRís own from a much higher MSRP. First impressions of CHERRYSís VIOLA switches donít disappoint and are an innovation to keep your eye on, potentially unlocking even more affordable designs with their veteran expertise attached. Although the K60 RGB PRO might not be an 'everyman' design, it will absolutely find a receptive audience amongst brushed aluminium lovers as well as gamers going mechanical for the first time.
Pros

+ Attractive looks for home or office
+ Excellent software lighting customisation
+ New CHERRY VIOLA switches
+ Full anti-ghosting/NKRO
+ Impressive software with integration of other iCUE devices
+ Available with additional switch and keycap types

Cons

- Shared media keys
- Limited on-board profile support
- Variable regional pricing; relatively expensive in UK/EU
- Lighting has a slight blue hue
Click here
for an explanation of our awards at Vortez.net.
Stay connected with the Vortez Social Media pages:
Facebook
Twitter
Instagram
Join in with the discussions on
Discord