Introduction
Product on Review:
700K Gaming Keyboard
Manufacturer:
Cougar
Street Price:
£99 GBP / $150 USD
A few months ago we had the pleasure of reviewing
COUGAR's 700M
gaming mouse and we were rather impressed by their efforts. COUGAR has been channelling all of their efforts into their gaming peripheral product ranges and today we're looking at a mechanical gaming keyboard which hopes to accompany its gaming counter-part.
700K is COUGAR's top of the line mechanical gaming keyboard which comes equipped with Cherry MX black, brown, blue or red switches. COUGAR has furnished this keyboard with a sturdy aluminium panel and armed it with a multitude of customisable features including additional keys, LED backlighting, and N-key rollover.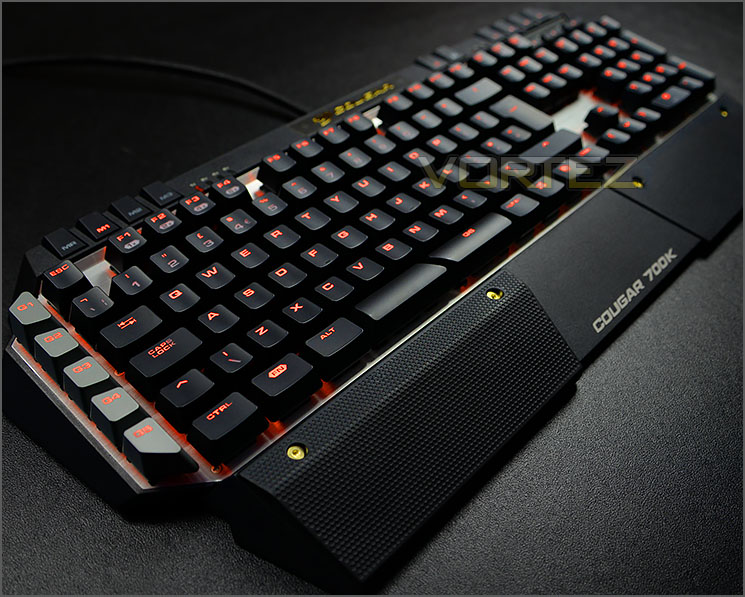 COUGAR on their 700K
COUGAR 700K is a premium mechanical gaming keyboard aimed at serious and professional gamers. Inspired by military "stealth technology", the design is created from elements of geometric facet; Mechanical key modules are mounted on exposed and bended aluminum structure with premium brushed surface treatments, this structure provides the user with more efficient typing, not to mention a sturdy and strong structural foundation. The ends are then wrapped in a plastic frame to create a protected feel. Intuitive key and button groupings are neatly integrated into the plastic frame. Thereby drawing and driving attention towards key areas and allowing the gamers to concentrate and focus on their competitive matches. An extra FPS palm rest with magnetic attachment on the palm rest area provides great ergonomic support for WASD keys control.