Introduction

Product on Review:
Sound Blaster G3
Manufacturer:
Creative
Street Price:
GBP £54.99 / USD $59.99 / EUR €59.99
Perhaps most famous for its Sound Blaster add-in sound cards, bringing depth and clarity to PC audio for years, Creative also produce a whole plethora of audio-centric pieces, ranging from earphones and headsets through speakers and soundbars all the way to in-line soundcards for games consoles, which is what we're looking at today.
Dubbed the Sound Blaster G3, this small device is designed to amp up your audio on the PS4 or Nintendo Switch. It's easy to do so on a PC platform, with hundreds of add-in cards and even incredibly powerful on-board audio solutions from motherboard manufacturers, but the console market struggles to produce the same.
Using a USB Type-C interface (with a Type-A adaptor), the Sound Blaster G3 plugs directly into your PS4 or Nintendo Switch to provide a driverless, zero-fuss improvement to your audio experience.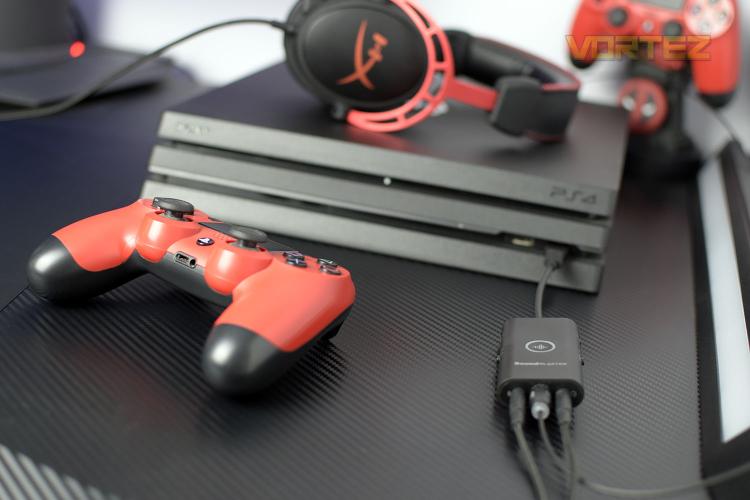 The G3 features a technology called GameVoice Mix which allows you to balance your friend's speech and call-outs with the in-game audio, on the fly, along with CrystalVoice and Scout Mode. There's also an iOS and Android application that can tweak things even further, if you wish to really dial in on those settings.
Priced at £54.99, $59.99, €59.99, it's not expensive, especially when you consider many gaming headsets are well-in-excess of that, and hindered by the DualShock 4s woeful built-in soundcard. Creative also cover the device with a 2-year warranty in EU countries (1-year outside of that).
Creative claim that the device's performance will speak for itself, so let's waste no further time and check it out.
Creative on the Sound Blaster G3:
If you were a PC user, it would be easy getting a DAC, amp, or sound card to satisfy your audio needs. But why isn't it the same for console users? With 30 years of legacy and technical expertise in PC audio, we are venturing beyond the PC and into gaming consoles, and the Sound Blaster G3 is our answer. Designed to be a fuss-free, driverless audio upgrade for your gaming consoles, the G3 is meant to provide users with premium gaming features without having to break the bank.