A closer Look at the GF120
Here is the fan's box: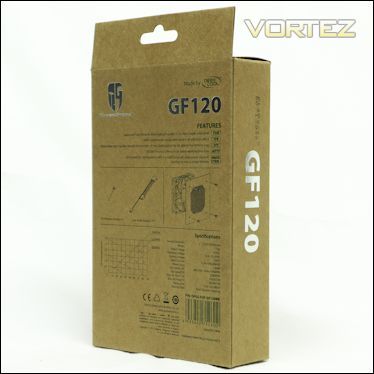 And here is the GF120 with its accessories. Note the cardboard backing. All of the packaging of this fan is completely recyclable. And the fan's cardboard cradle is hollow, so it provides some cushioning. In fact, the papers on the package say this fan was shipped directly from China. There was no damage at all. The fan arrived in great shape. The other point I want you to note is what Deepcool calls the "De-Vibration buckle." These are four of the best vibration isolators you can buy. Usually you pay a dollar apiece for them; Deepcool just throws them in with their fans (this was a consistent feature of their UF fans, too). The 7v adapter is also there.
At this point we should take a close look at the fan without its accessories and with no angle shots:
And Deepcool promised us a removable impeller. But the motor looks very ordinary. No matter what they say, don't dunk it.