Conclusion
When we first opened the fans, the quality of the packaging and the solid feel of the MF120 fans was excellent. Everything felt well put together and like it was "built to last". We absolutely loved the packaging too, that's an awesome feature that we truly appreciated from Deepcool; it's not often we find packaging with any real flair or substance to write in our reviews.
Moving onto the RGB lighting, it's fantastic. The application for iOS and Android made setting up and adjusting the lighting easy, with the fans reacting to adjustments within the app instantly. The software was packed full of presets and made picking the perfect colour a doddle, with the colour select wheel, however, due to the MF120 fans only arriving in a triple pack, we would've appreciated some way of synchronising the three fans into a single effect, such as the "Meteor" zooming across all three fans in sequence. Also, please bear in mind that the fans can only be controlled via smartphone application, there is no Windows program currently available.
We ran into a small issue with installation, in regards to screwing the fans onto the chassis. The mounting holes on the fans aren't "tapped" for a screw fitting, therefore the only mounting mechanism is via the included rubber attachments which are pulled through from the inside of the case. This may be difficult in tighter chassis.
Lastly, the noise. We found the fan running at 1000 RPM was overly loud, while not pushing a great deal of air to make up for it; this is more than likely due to the design choice that Deepcool made, removing the frame around the blades. Pushing the RPM up to maximum, nearly 2,300 RPM, was insanely loud, with the noise meter pushing over 45dB at times, with an average just under. For a high performance system, which may require fan speeds over 1000 RPM at all times, these aren't really suitable for everyday use, even with good sound proofing inside your case.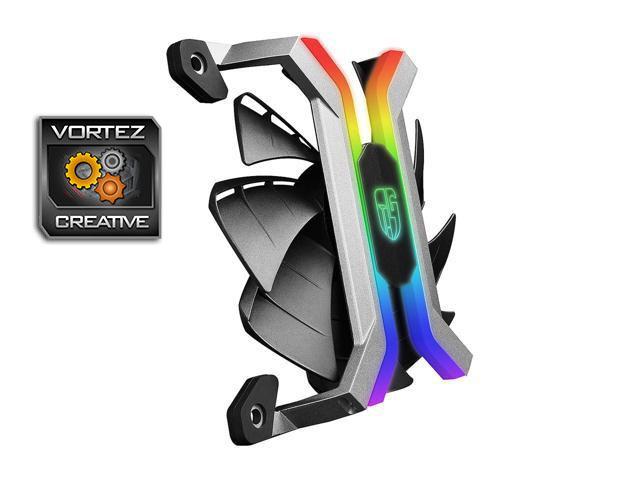 The Gamer Storm MF120 fans look amazing and will improve the RGB-ness of any case you put them in, but living with the noise everyday would bear too much to handle.
Pros
+ The fans look fantastic
+ Something completely new
+ Software easy to setup and control
+ RGB lighting is bright and colourful
+ Amazing packaging

Neutral
+- Software lacks some synchronisation features we would expect to see

Cons
- Far too loud
- Not easy to install in small cases
- No PC software available
Click here
for an explanation of our awards at Vortez.net.
Stay connected with the Vortez Social Media pages:
Facebook
Twitter
Instagram