Introduction
Product on Review
:
TF120
Manufacturer and Sponsor
:
Deepcool
MSRP
: $16.99 / £16.99
Today we are looking at a first for 'fans' of computer fans – a design from Deepcool's Gamer Storm brand which features 2-layer blades. Due to this subtle change the blades on the impellers of these fans look like the spoilers on race cars. The question is, do they have any impact? We will be looking closely at this fan.
Deepcool have this to say:
TF 120 series feature unique patented 2-layer blade design to offer a powerful air pressure, the scientific channelized frame to reduce the noise arose by the whirlpool of airflow, and semi-hermetic Fluid Dynamic Bearing solution to power MTBF up to 100,000 hours. The TF120 series fan's advanced detachable blade design to give more color choice built-in 3-proof functions (Dustproof, Waterproof, Oil-leakage proof), which satisfy your DIY enthusiasm to build a unique rig.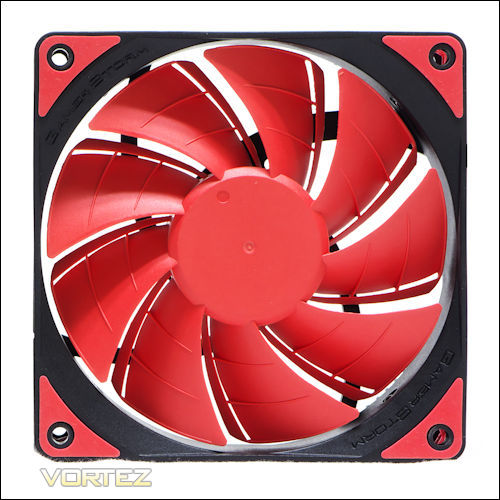 Deepcool is a manufacturer out of deepest China with lots of toys to play with. Deepcool maintains two main divisions on their website: an OEM/ODM side where they offer all sorts of cooling products for industry; and an enthusiast side where they offer cases, coolers (water as well as air), power supply units, and – oh yes – fans. This is how Deepcool describe their outlook:
Deepcool design and manufacture a comprehensive range of high quality products, covering desktop cooling solutions, laptop cooling solutions, server cooling solutions, embedded cooling solutions, and other thermal components. . . . Ever since the stunning victory of Deep Blue, a program running on an IBM supercomputer, over Gary Kasparov, then world chess champion, in 1997, it has been clear that computers would be the most powerful tool of human being. At that time, we started our computer cooling business. We hoped our products could be as great as Deep Blue. With that in mind came the name Deepcool.
At Vortez, we began covering Deepcool products in
mid-2012
, and have found that their fans tend to have interesting features and accessories which set them apart from the usual run-on-the-mill. Perhaps of most interest to general consumers is that the fans tend to have both PWM speed control and 7-Volt adapters; It's like getting two fans for the price of one.