Conclusion
The Blackfire Apex is a good representation of a prebuilt system under the £1000 mark. As we've seen in our review today, although this is a low-to-mid range configuration we're still benefitting from reliable components from trustworthy manufacturers – it's great to see that Fierce PC hasn't cut any corners in this regard.
The Gamemax Vegas chassis is the first and obvious item we come into contact with and we were surprised to see how popular this enclosure is within the channel – an assortment of retailers stock this case and it's a popular choice for a low-cost solution. In our experience with Vegas, we found it to be a decent midi tower with style, plenty of USB ports and of course the flashy RGB lighting. Switchable RGB functionality is rare to see on a case at this pricepoint and it works really well. Our only query with using Vegas is that it engulfs this Micro ATX system and as seen on the previous pages, there is excessive amounts of space around the motherboard. A smaller, compact chassis may have been a better option to go with for this particular configuration.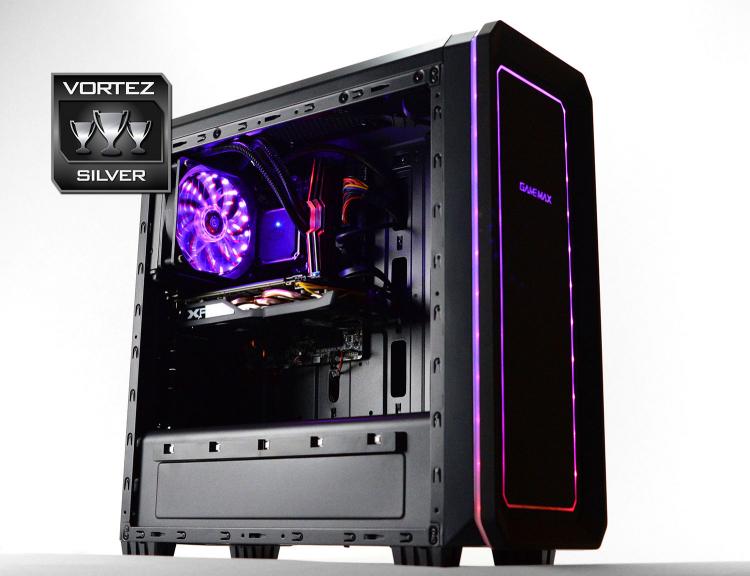 Seated at the centre of Blackfire Apex we have the Intel Core i5-6500 which is based on Skylake architecture and although this is an i5 processor, we still benefit from quad-core support. This chip offers good overall performance for gaming and general usage which may include some photo editing.
Fierce PC has made a classic move with the combination of an SSD and HDD inside Blackfire Apex. The cost of SATA-based SSDs has plummeted in the last 12 months and this assists with keeping the costs down. The ADATA SP550 which has been used in this rig presents us with a rapid boot into Windows 10 and supplies quick access to frequently used applications.
The
Blackfire Apex is listed at £799.88
to buy and after doing our own calculations on the individuals components we hit around £760. So, Fierce PC has done a superb job in keeping the costs down – bearing in mind this configuration comes prebuilt without having to pair up and install any of the components and is backed by an impressive 3 years-warranty.
Fierce PC's Blackfire Apex carries a strong lineup of decent hardware which translates to great performance in a range of different scenarios. If you're a 1080p gamer and are looking for a good value prebuilt system, Apex is a worthwhile route to take.
Pros
+ Features RGB lighting
+ Reputable brands used throughout
+ Good processing power
+ Offers good 1080p performance
+ Can handle VR
+ Good value for money
+ Arrives with 3 years-warranty

Cons
- Case is unnecessarily big for motherboard/components
- Cable management could be tidier
- No USB 3.1
Click here
for an explanation of our awards at Vortez.net.