Introduction
Product on Review
:
EVO X AMD Edition
Manufacturer
:
GeIL
Street Price
:
3200MHz C16 Dual-Channel (16GB): UK: £159 / US: $169
GeIL jump into the market with the EVO X memory modules, specifically tailored for the AMD Ryzen platform. GeIL are renowned for the long 'burn-in' testing, allowing them to guarantee performance, quality and stability. The EVO X is available with heatspreaders in either anodised black or white, and features HILM™ – Hybrid-Independent-Light-Module Technology. This is essentially a stand alone RGB lighting system which features manual RGB control, or can be controlled by the various motherboard manufacturers proprietary software, (Such as ASUS Aura, MSI Mystic Light, GIGABYTE RGB Fusion, and ASRock's Aura RGB). This makes for a high-compatibility, and versatility in regards to the lighting.
GeIL have positioned this kit rather competitively and will go toe to toe against the likes of the
Team T-Force Delta RGB
, to which it features a similar XMP timings of 16-18-18-18-36 @ 3200MHz.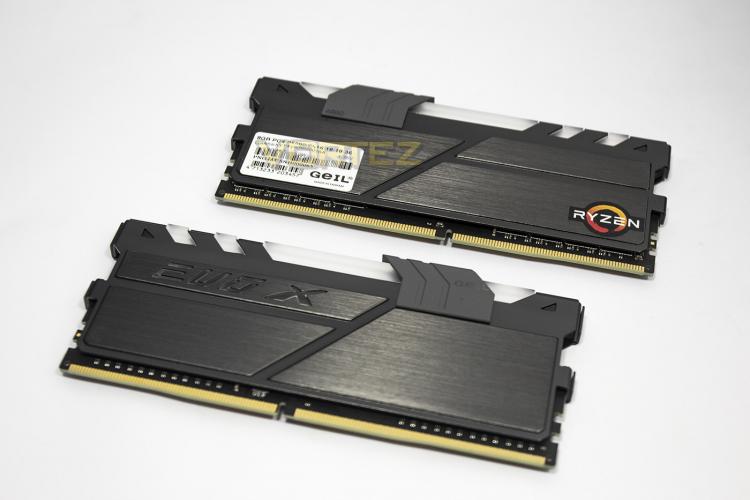 Overview by GeIL
Designed for AMD RyzenTM, EVO X AMD Edition Series ensures compatibility and brings outstanding performance on the latest AMD platform. Every memory is tested thoroughly and burned-in to guarantee the quality, helping you get the most out of your AMD Ryzen system.

Setting new benchmarks in high-end DDR4 memory, EVO X AMD Edition Series features GeIL's latest innovation – HILM™ – Hybrid-Independent-Light-Module Technology, enabling dynamic RGB LED illumination. EVO X AMD Edition Series not only excels from previous series aesthetically, the technological breakthrough in high performance memory illumination transcends even further.