Conclusion
XTREME is tailored to the enthusiast who need the absolute best features at their fingertips. By its very nature and significantly high price point, it'll come as no surprise that this offering will be suitable for a very small cohort of users.
Compared to the previous generation, this seasons XTREME is quite a subdued affair in terms of the styling. GIGABYTE has opted for a minimalist-type of approach by keeping things sleek and subtle. The entire board is adorned in a smooth coat and ports/headers are right-angled to ensure cable management is on top form.
Across XTREME there is no shortage of strong features. A variety of fan headers, temperature sensors, on-board power/reset buttons, OC ignition button, and extras like the Q-FLASH function. Although the back panel is loaded with USB 3.2, we expect USB 3.2 Gen2x2 on motherboard commanding such a price-tag and are surprised it is absent. But, on the flipside we are pleased to see Thunderbolt 3 making an appearance - many high-end offerings omit such a feature.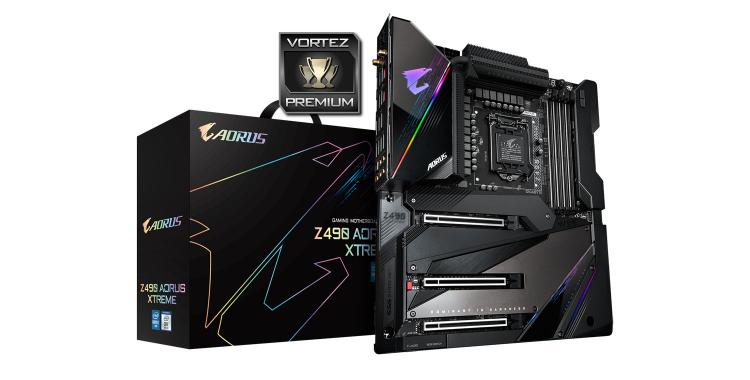 XTREME performs very well in a range of different scenarios. We were also able to nudge up the 10-cores on our 10900K to 5.3GHz (across all cores), however we did need more voltage than rival offerings required. The VRM and chipset temperatures on XTREME are notably low compared to the competition which is testament to GIGABYTE's engineering.
It won't be unusual for folk to do a double-take when viewing the pricing on XTREME, it is astronomical at GBP £750 | USD $799| AUD $1500. Which begs the question, if such a class of motherboard is desired, surely the HEDT platform is a better route?
Loaded with features and offering stellar performance, the XTREME is a top-class Z490 motherboard. The asking price is rather difficult to stomach though…!
Pros
+ Sleek and minimalist appearance
+ Jam-packed with features
+ Offers great performance
+ Loaded with fan headers and sensors
+ Includes Q-FLASH functionality
+ Has future support for PCIe 4.0
+ Uses strengthened PCI Express/memory slots
+ Offers triple M.2 slots

Cons
- No PCIe x1 Slots
- Extreme pricing
- Very heavy
Click here
for an explanation of our awards at Vortez.net.
Stay connected with Vortez social media pages:
Facebook
Twitter
Instagram