Core i5 4670K & Core i7 4770K in the flesh
Intel's new Haswell processors are the 4th Generation to enter the family of the Core i5 and i7 product line. Although the socket type has changed (LGA1150), all the processors remain the same physical size as previous generations from Ivy Bridge and Sandy Bridge. Haswell incorporate 22nm technology – this is the second time Intel have integrated such architecture with desktop products. All Haswell processors are design to work with new Intel 8 Series motherboards, typically using the Z87 chipset. The processors use a tri-gate transistor design similar to Ivy Bridge.
The 4670K comes with four cores, four threads, 6MB L3 cache and with a base clock of 3.4GHz boosting to 3.8GHz via Turbo Boost 2.0 technology. The 4770K comes with four cores, eight threads, 8MB L3 cache and with a base clock of 3.5GHz boosting to 3.9GHz with Turbo Boost. By default, with Turbo Boost technology enabled the chip will idle at 800MHz - thus encouraging better energy efficiency compared to its predecessor which maintained 1600MHz during idle state.
Both 4670K and 4770K have integrated graphics via Intel HD 4600 and promise to deliver even greater performance compared to previous generations. Here is what Intel specify in regards to Intel HD 4600 graphics:
- Built-in Visuals3: New enhanced built-in visual features deliver a seamless visual PC experience for doing everything from simple e-mail to enjoying the latest 3D and HD entertainment. The built-in visuals suite includes:
- Intel® Quick Sync Video Technology: Media processing for incredibly fast conversion of video files for portable media players or online sharing.
- Intel®InTru™3D: Stereoscopic 3D Blu-ray* playback experience in full HD 1080p resolution over HDMI 1.4 with 3D.
- Intel® Clear Video HD Technology: Visual quality and color fidelity enhancements for spectacular HD playback and immersive web browsing.
- Intel® Advanced Vector Extensions 2.0 (Intel® AVX 2.0) : Increased performance for demanding visual applications like professional video & image editing.
- Intel® HD Graphics 4600: Significant 3D performance for immersive mainstream gaming on a broad range of titles. The dynamic graphics frequency ranges up to 1250MHz.
As can be expected, the packaging for both our Intel Core i5 4670K and Core i7 4770K arrive in a bright blue retail box. Retail versions also come with a fan-less option and OEM – without packaging altogether. Retail versions come with the added bonus of an extended warranty (3 years) and Intel reference fan.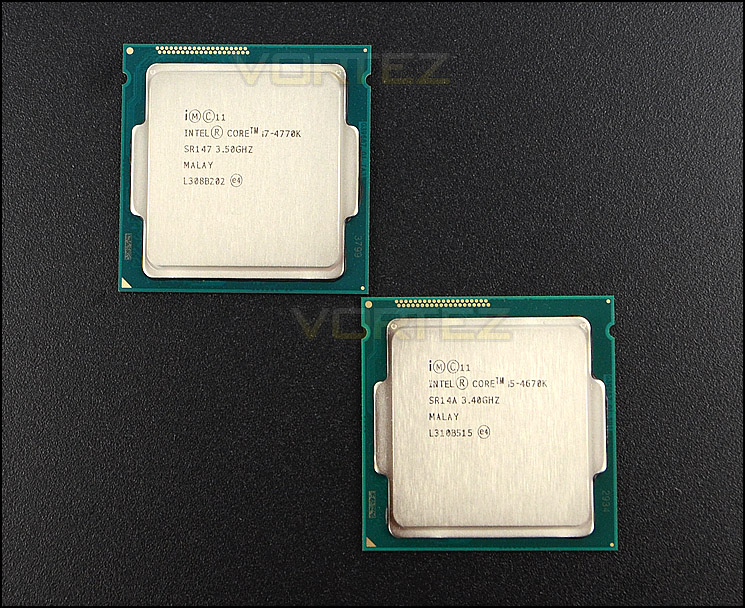 Intel Haswell Core i5 4670K and Core i7 4770K
The underside of the chips