Introduction
Product on Review
:
NUC Kit NUC8i7HVK
Manufacturer
Intel
Street Price
: UK £899 – AU $1385
Mini-PCs have been in circulation for many years – often providing a baseline for basic home theatres and the like. Such a device would ordinarily rely on integrated graphics due to technology constraints and limited space – translating to acceptable but far from impressive 3D performance. Fast forward to the beginning of 2018 and
Intel unveils their Hades Canyon-based NUC
– a converging of the new Intel 8th Generation CPU architecture and AMD's discreet graphics GPU,
Radeon RX Vega M
. The fusing of the two components might surprise avid enthusiasts, but the intention to leapfrog the typical iGPU performance is something of a smart move.
The
NUC Kit NUC8i7HVK
is a petite computer system which takes advantage of the
Intel Core i7-8809G
. This new CPU is superior to anything we've seen in previous NUCs so it should be very interesting to see what the performance figures are like later in the review. While we may not get memory and storage out of the box due to this being a barebones kit, there is support for up to 32GB DDR4 and PCIe M.2 SSDs – combine this with the
Radeon RX Vega M
and its 4GB HBM2 and we have a mini-powerhouse on our hands.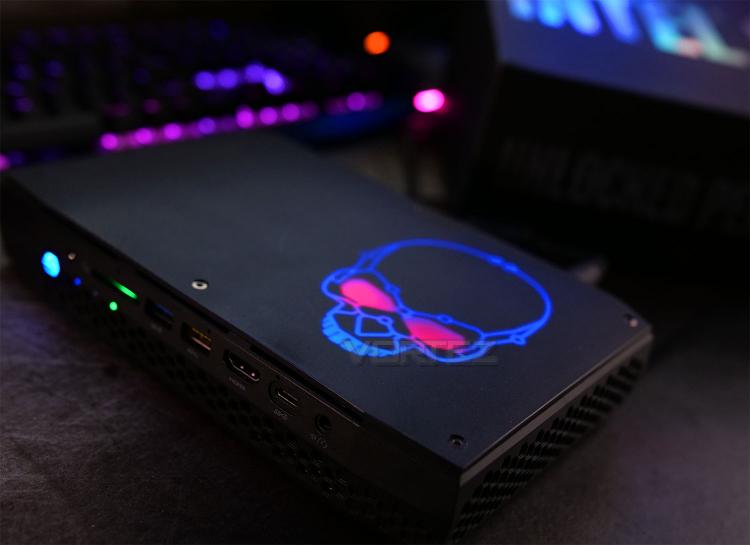 Intel on their NUC8i7HVK
Built with an unlocked 8th gen Intel Core i7 processor ready for overclocking and with Radeon RX Vega* M graphics so you can clearly see every single movement, the Intel NUC8i7HVK kit is optimized to give you every GHz of performance you need for extreme experience in the virtual world. There's room for up to 32 GB of DDR4 RAM and two M.2 slots for SSDs so you can store data locally and load maps fast.