Conclusion
It's been a while since we had an MSI GPU through our doors and after sampling today's GPU we hope the gap between their products won't be so long next time because if this card is anything to go by, MSI have retained the qualities which make them a leader among GPU manufacturers.
The GTX760 Twin Frozr Gaming Series OC is quite a mouthful to say yet conversely is also mouth watering for those looking for performance on a budget.
Overclockers UK
currently have this card on a very special offer for just £215.99 (at the time of review) which makes it one of the cheapest GTX760s available today. This in turn allowed the MSI card to top our Value for money charts. You should not however be fooled into thinking this is a
stack 'em high-sell 'em cheap
kind of product because it oozes quality from every aspect.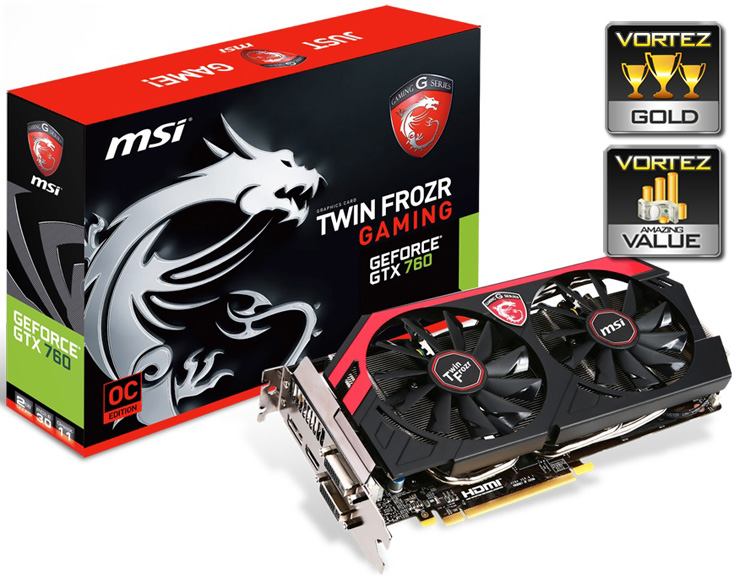 The aesthetics are great with our only complaint being the dark brown (not black) PCB. Its extremely quiet in operation and offers good performance at today's most popular resolution (1920x1080p). While it may not be quite as fast as some of the competitions interpretation of the GTX760, it strikes the perfect balance between cost and performance which at this level of the market is what counts most. For this reason we are awarding the The GTX760 Twin Frozr Gaming Series OC both our Gold and Value awards.
To summarise:
Factory overclocked and cooled by the powerful Twin Frozr heatsink it should come as no surprise this graphics card comes highly recommended.
Pros
+ Very Quiet
+ Factory overclocked
+ Great looking
+ Competitive price

Cons
- Dark Brown PCB
Click here
for an explanation of our awards at Vortez.net.