Introduction
Product on Review:
noblechairs HERO
Manufacturer:
noblechairs
Street Price: UK £349.99 / US $439.99 / AU $549.99
There's an old saying that says you should always invest in things that seperate you from the floor, such as shoes, mattresses and chairs; the chairs part is where we're going to focus today, to see if the £349.99 noblechairs HERO can improve your time spent at a PC, whether that's for lengthy gaming sessions or just a day at work.
Now onto our third noblechairs review, we've tried and tested the noblechairs EPIC and ICON, two similar sized chairs with different styles. Today we look at the HERO, with several additions, most importantly of which is the increased size, now catering for the larger person. Padding is also increased, to help support heavier people, with a maximum quoted weight of 180KG (roughly 28 stone).
As well as the increased size, we also get infinitely adjustable lumbar support and memory foam in the headrest, increasing comfort and useability.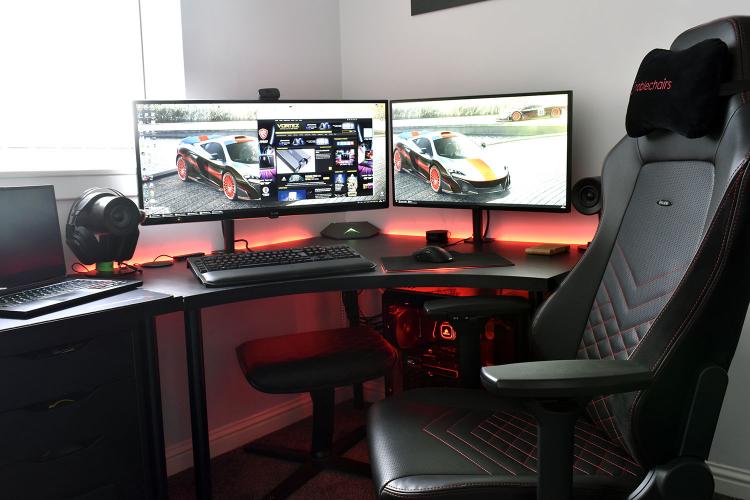 The elegant and beautiful designs that noblechairs employ on their ICON and EPIC series chairs has been carried through, with Nappa Leather and Real Leather options being available, as well as the PU Leather on our review sample. Chunky stitching and quality materials also help give the HERO series a premium feel.
We've been using the ICON and EPIC chairs for a while now, giving us a solid benchmark to work from when comparing the HERO, which we've tested for around a month now. Read on to see what we thought.
noblechairs on the HERO:
Premium ergonomics is what differentiates a good chair from a great chair, especially when used over extended periods of time. With that in mind, noblechairs took a range of feedback on board and integrated long requested features into the HERO gaming chair. One of the most popular requests was for adjustable lumbar support to be integrated into the backrest, something that can be adjusted to meet your precise preferences thanks to the infinitely adjustable wheel design. This is a feature that has been limited to only the highest of high-end office chairs. This enables the HERO to conform to the natural curvature of lower back and provide a more natural posture when seated.