Noctua Accessory Kits
At the same time Noctua announced their industrialPPC and redux fan product lines they also announced "a wide range of accessory kits." And that is about all Noctua says about their accessory kits. However, we note that traditionally Noctua's full price fans come with several accessories. But the redux fans, with their focus on providing a lower cost option, come without any accessories. You buy only what you need, and Noctua provides the kits to fill those needs.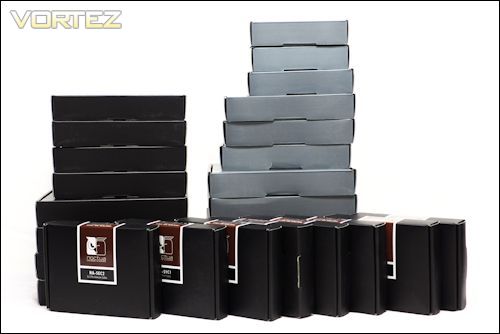 There are eight accessory kits. All but one of the accessory boxes come with two or three items.
Noctua tightly sleeved all the accessories. They labeled the parts individually. The "3:4-Pin Adaptor Cables" are adapters that link 4-pin "Molex" connectors with 3-pin fan sockets. The 3-pin and 4-pin Y-cables skip the RPM lines on one arm – this keeps a motherboard from getting confused by two RPM signals.
Captions: 3-pin Accessories 4-pin Accessories
Inside their boxes the accessories lie on foam beds. The "Anti-Vibration Mounts" have a little instruction sheet.
The vibration isolators are a bit special. For one thing, they are double-ended isolators. You pull one end through the screw hole in the fan, and pull the other through the screw hole in the grill the fan attaches to. This makes the anti-vibration mounts perfect for installing into blind corners. The other special aspect of these isolators is their length – finally Noctua has fan mounts that reach all the way through a fan, so you can grip them on as they come out the other side and pull them through.
Noctua also makes Low Noise Adaptors (LNA) for their fans. A variety of these adapters come packaged with their full-priced fans. In this case, the 4-pin NA-SRC7 (for PWM fans) and the 3-pin NA-RC10 are, according to Noctua, "ideal for slowing down Noctua's redux edition fans."