Closer Look
Removing the cooler was a cinch with just 10 Phillips style screws to remove. The heatsink is actually quite small compared to the real estate afforded by the cooling shroud and as you can see, the main heatsink only covers the core, not the memory or VRM areas.
Surprisingly, the core is not fixed in anyway to the shroud, rather it is simply sandwiched between the card and shroud and only becomes fixed when all the components are screed together. With GPU boost dependent on temperature, it was surprising to see such a basic design. Hopefully this will not have an affect on our overclocking results!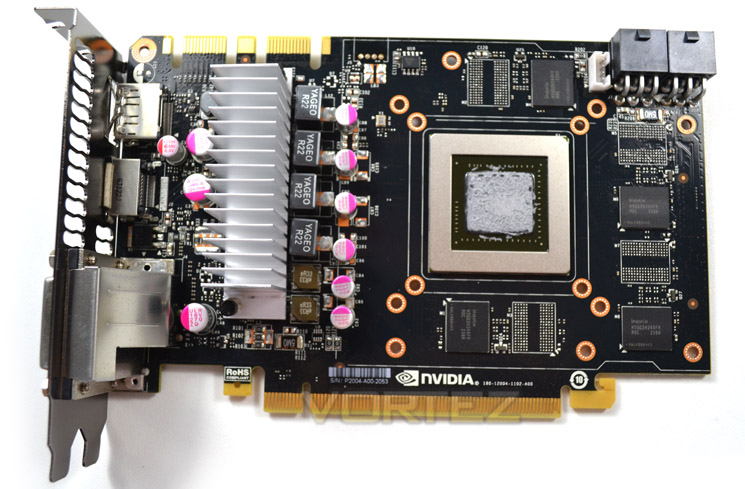 The card has the VRM at opposite ends to the power ports which is not the most efficient design. As you can see, the VRM area has it's own passive heatsink attached via push-pins. There are a total of 8 empty GDDR5 ram slots (4 on each side of the PCB) which hints at the potential of 4GB models becoming available in the future.
The VRM is made up of a 4+2 phase design with each GPU YAGEO R22 choke coupled to 3 MOSFETs. The remaining two R33 chokes have a single MOSFET each and are reserved for memory and PLL operations. The whole PCB carries solid state capacitors which is a familiar sight now with all modern graphics cards.
The memory is high quality HYNIX carrying the product code of H5GQ2H24AFR R0C so should be good for some overclocking fun.
The GK104 core is an excellent choice as it is both power efficient and (relatively) cool running. With 6 SMX units it will be interesting to see how it compares to the HD7950 which on paper appears to be the more powerful option.