Conclusion
In a world of increasingly specialised mice, Razerís Basilisk Ultimate harks back to an era of generalised design with premium or unique features setting it apart from its peers. The question is how well it can perform in each of its multi-faceted roles, and whether there is still space for this ethos within the current market landscape.
From a pure performance perspective the Basilisk Ultimate does well is most arenas but without excelling in any one aspect. Itís good for FPS games, MMOs and ARPGs alike - perhaps best suited for MMOs in fact - and offers a feature set that can be exploited everywhere including in productivity applications. The Synapse software is an aid to this rather than a hindrance, and has done much to dispel its very early reputation of being a detriment to the overall package.
Latency and battery life will always be a concern for wireless mice, but we are pleased to note that the Basilisk Ultimate doesnít suffer from the former and has ample amounts of the latter. One slight concern will be the RGB lighting as it drains power significantly, requiring an orderly approach to ensuring that you keep the mouse charged; the docked version of the Basilisk Ultimate may well be the most appropriate option in that instance.
In a pinch the Basilisk also operates flawlessly as a wired mouse when connected via the supplied Speedflex cable, giving you piece of mind over exclusively docked charging alternatives.
Wireless range is also very good. Although we maintained a 50cm range in general use cases, the signal 3-4m out was also sufficient for gaming without dropouts or added latency and should be more than adequate for living room gaming.
For all its positives, one should continue to bear in mind that the Basilisk Ultimate is a heavy mouse by today's standards. It, like other deluxe wireless mice, is a hefty design made necessary by its large battery and additional features. That will be expressed in a longer time to adapt from lightweight wired alternatives, and perhaps more fatigue in extended gaming sessions.
With that weight come some of the design idiosyncrasies that Razer is famous for. Adjustable wheel tension at first appeared to be a strange option but its value soon became clear - we canít imagine that thereís a perfect tension for these mouse wheels for all situations, so adjustable tension is the next best thing. Weíd still like some sort of software readout for the tension level though, just to make trail-and-error customisation a little easier.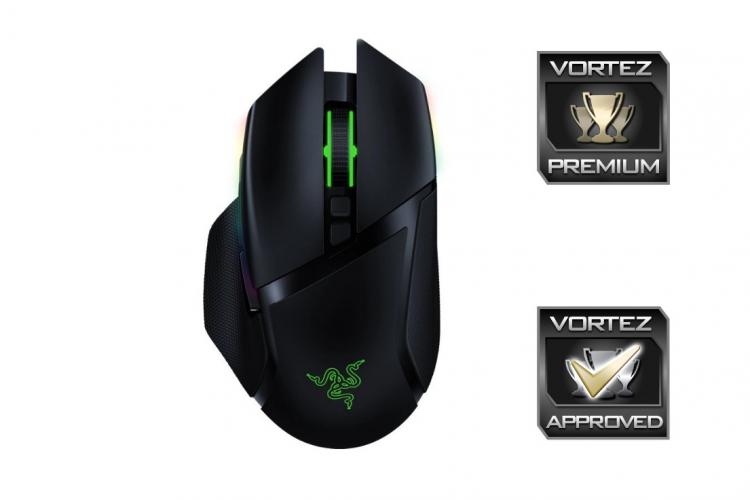 The DPI Toggle button is another excellent addition, and not just as an aid to aiming down sights in FPS titles. Every bindable button in easy reach has value when playing hotkey laden MMOs, so an extra one in a prime zone really pushes the mouse ahead of some alternatives.
Small niggles persist, including a slight pre-actuation wobble in the LMB and more friction on the mouse 'skates' than we'd like, but nothing even close to insurmountable.
So finally we come to the price. At an MSRP of £149.99 this model it's undoubtedly on the expensive side, but that MSRP hasn't budged since its release in 2019. Street pricing however has changed significantly, with the mouse available from popular UK e-tailers for as little at £75 at the time of writing. We're much more positively inclined towards it at less than £100, but below £80 it instinctively feels like an absolute steal for a mouse of excellent quality backed by a strong software ecosystem. Nonetheless it's generally not our policy to give awards based on pricing outside of MSRP.
Razerís Basilisk Ultimate is the ultimate expression of a workhorse gaming mouse, suitable for a huge range of game genres thanks to unique adaptations and made complete with excellent wireless comms and RGB lighting. Available with and without a charging dock, itís a truly Premium option for gamers with eclectic gaming tastes in need of an adaptable design for work and play.
Pros

+ Comfortable Ergonomic Shape
+ Excellent HyperSpeed Wireless
+ No perceptible latency
+ Error-free optical sensor tracking
+ Flexible design elements
+ Customisable features
+ Vibrant RGB lighting
+ Part of the growing Razer Chroma ecosystem

Cons

- Weight
- Restrictive battery life when RGB is enabled
- Difficult to configure mouse wheel optimally
Click here
for an explanation of our awards at Vortez.net.
Stay connected with the Vortez Social Media pages:
Facebook
Twitter
Instagram
Join in with the discussions on
Discord