Closer Look: MSI X370 XPOWER GAMING TITANIUM
Product on Review
:
X370 XPOWER GAMING TITANIUM
Manufacturer
:
MSI
Street Price
: £274.99 GBP / $299 USD
Technical Specifications
The MSI X370 XPOWER GAMING TITANIUM comes in as the most expensive motherboard at £275-300. It features a beautiful powdered metal-like finish that really stands out from the crowd. It features VRBoost to ensure the latest peripherals get the power they need, high-grade isolated audio circuitry with dedicated PCB for left and right audio channels based on the ALC 1220. Across the motherboard you caan spot Steel Armour plated parts including on the primary and secondary PCIe slots, as well as on the DIMMs and a M.2 Shield. The X370 XPOWER GAMING TITANIUM also features 2x M.2 slots as well as a NVMe U.2 socket (which is disabled if the primary M.2 slot is in use with an M.2 PCIe card). The X370 XPOWER GAMING TITANIUM also features enthusiast and pro level features including dedicated overclocking circuitry ensuring high efficiency and performance, over-voltage protection, a Slow-mode, as well as a BIOS Flashback+ feature enabling you to flash the BIOS without a CPU/GPU.
The X370 XPOWER GAMING TITANIUM glitters and shines with both the heatsinks and the PCB having a similar lustre.
On the left there is a 4pin fan header next to the VR Boost controller, to the right of the AM4 socket is a single 4pin fan header. The socket itself is powered by a premium 10 phase system.
The DIMMs are armour plated and are orbited by 2 more 4pin fan headers, one of which outputs up to 2A for a water pump. From the left, there is a USB 3.1 G1 header, the 24pin ATX power socket, 4x diagnostic LEDs, 2x 4pin fan headers, (one of which outputs 2A for a pump), and a Debug LED.
MSI offer up a reasonable 6x SATA ports and a NVMe socket, to the left of the storage block there is a small switch for the BIOS Flashback feature.
Instead of where you would expect to find the front panel headers, there are a number of buttons including power, reset and the OC Genie button. On the left there are two USB 2.0 headers, followed by the front panel headers and a right angled USB 3.1 G2 connector. Centrally you will find the speaker pins, followed by the pins which can enable 'slow mode' on the right.
The bottom edge seems rather lite, with just the HD audio header, plug for additional PCIe power, a 4pin fan header and a RGB LED strip header.
There are two M.2 slots featured on the X370 XPOWER, beneath the upper M.2 slot there are pins for a TPM and a chassis intrusion detector.
The rear I/O presents us with a universal PS/2, 2x USB 2.0, a clear CMOS button, a USB 2.0/BIOS Flashback port, a Display Port, a HDMI 2.0 port, 2x USB 3.1 G1, 2x USB 3.1 G1 (VR Ready), 1x USB 3.1 G2 Type A, 1x USB 3.1 G2 Type C, optical SPDIF out, and multi channel audio ports.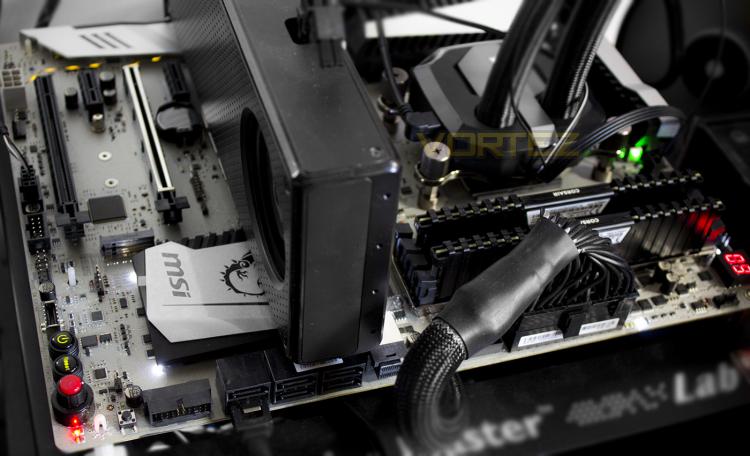 Though the MSI X370 XPOWER GAMING TITANIUM features an RGB LED header, the onboard LED lighting is fairly incoherent, with white, green, red and yellow lighting in various places.