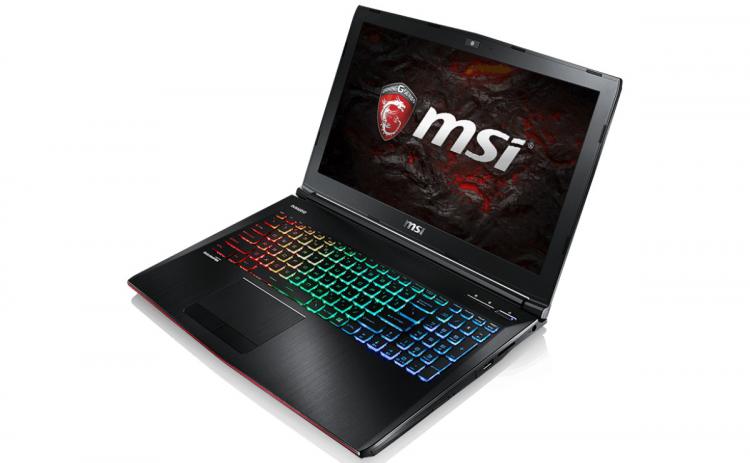 In our latest video review, published today, we're taking a look at
MSI's GE62 7RE Apache Pro
, a brand new gaming notebook which sports the latest NVIDIA GeForce GTX 10-series GPU as well as Intel's 7th Generation Core CPU technology. As an accompanying piece to the review we wanted to provide some additional context for the GTX 1050-class of GPU (which the notebook is equipped with), and give you a generation sense of why it's a positive step for consumers.
PC Gaming – The Fastest Growing Platform
The figures are pretty clear when it comes to mainstream gaming: the PC platform as a whole is the largest platform and still growing, and that's why more developers than ever are choosing to either focus on the PC exclusively or as their primary release platform. The trend is even more significant for gaming laptops, which despite an already wide install base still boasts 30% sales growth year on year, bucking the wider downward trend for PC system sales.
Perhaps unsurprisingly, NVIDIA are a major stakeholder in PC gaming's success. There are currently over 100 million GeForce PCs in operation, upwards of 20 million of which are GeForce GTX gaming laptops, and NVIDIA is the number one graphics hardware brand in iCafé's, on Steam, and within professional eSports organisations. The continued health of the consumer gaming market is therefore critical to their success.
Growth has largely been driven by the sheer number of PC games and the simplicity of gaming on PC compared to yesteryear, but eSports are a factor that's easy to underestimate. Prize money for these events continue to grow, and the estimated 300m viewers is gargantuan for what should be relatively niche broadcasts and competitive events. It makes sense that new gaming hardware needs in some manner to cater to these aspects of the industry.
Hardware vendors – including NVIDIA – have pushed to make PC gaming easier than ever through improved drivers and software such as GeForce Experience. Not only is getting started on PC quicker and easier, that now extends to streaming you own gameplay and becoming engaged in the eSports community.
NVIDIA's GeForce GTX 1050 & 1050 Ti For Notebooks – Slicing Through Confusion
NVIDIA announced the GTX 1050 and GTX 1050 Ti for notebooks at CES 2017, heralding both a new entry-level class of GPUs for mobile gaming and the effective retirement of the 'M' suffix from their range of notebook-class graphics hardware. The former is perhaps just the natural progression of things, but the latter has been a long time coming (and is doubly welcome because it wasn't inevitable).
In Autumn of 2015 NVIDIA revealed the GTX 980 for notebooks. This hardware was something of a revelation at the time due to the use of a full-fat GM204 GPU within a notebook chassis, eschewing the previously top-rated GTX 980M (with 25% fewer CUDA cores) to reach high performance goals. This launch was also scheduled to be alongside the incorporation of Intel's desktop class CPUs within high performance notebooks, but whilst interest from Intel petered out NVIDIA grasped the nettle for future releases.
Close to a year later NVIDIA launched the GTX 1080, 1070 and 1060 for notebooks, for the first time offering a wide range of graphics solutions with naming scheme and performance essentially mimicking their desktop equivalents. At a stroke this massively reduces potential sources for customer confusion by letting consumers know what performance they should expect and how new hardware lines up against the complex field of software system requirements. Now, when a game recommends a GTX 1070, you wouldn't be misled into thinking that a '1070M' would be equivalent.
This months' release of GTX 1050-class notebook hardware is the final stage of a process which, irrespective of the price and performance of the systems available, will be welcomed by consumers. Would that other manufacturers did the same.
Technical Specifications
Broad Expectations Of The New GPUs
NVIDIA are very much billing the GTX 1050 class of notebook GPUs as the entry-level point performance-wise for laptop gaming in the current hardware generation, lining up with the GPU's position in the desktop market. The question is, what does this mean for performance and how much of a step forward is this generation.
It's no shock that PC game performance requirements have shot up in this generation compared to the previous. An oft-reported statistic is that the latest version of Tomb Raider, GTA and The Witcher require between two and three times as much graphics horsepower as their predecessors is playing at similar image quality settings. Unfortunately that squeezes entry-level hardware, especially underpowered laptops, and NVIDIA needed to compensate.
Overall, NVIDIA claim that the Pascal-based GTX 10-series for notebooks is a 75% improvement over Maxwell-based designs, but how about the 1050-class alone? Here they're even more emphatic – 2x performance versus the GTX 950M (NVIDIA's previous entry-level GPU) and, in the case of the GTX 1050 Ti, surpassing the GTX 970M. In practice we should see the GTX 1050 shaping up well for 1080p 60FPS gaming in the most popular games at either Medium or High settings as a truly solid entry level point into PC gaming.
This initiative will be put down to the development of the Pascal architecture, built in this instance with Samsung's 14nm FinFET process. Pascal has proved itself to be very power efficient, which has allowed laptop manufacturers to slot in the new GPUs without the need for a substancial (and costly) redesign of either power or cooling components, and so offer substantially more performance within what's ostensibly the same chassis.
Another feature that the new 10-series laptop designs share with their desktop counterparts is GPU overclocking. Previously overclocking on mobile chipsets was extremely limited, and for good reason: cooling solutions had been designed to dissipate the TDP of the combined system hardware at stock speeds, and usually no further. Power systems too greatly restricted the potential draw for all hardware. Today, although some restrictions remain on a case-by-case basis, NVIDIA no longer enforce maximum speeds on the GPU.
As mentioned, today's video review covers the
MSI GE62 7RE Apache Pro
, but this is just one of many different designs all vendors will be releasing that are tooled out with a GTX 1050-class GPU. Over 30 designs from manufacturers such as ASUS, Dell and AORUS will be part of the launch wave released over the next few months, each with feature that make them unique.
So, that's a brief introduction to NVIDIA's GeForce GTX 1050 and GTX 1050 Ti. As always, you can find more information at
GeForce.com
and don't forget to check out our
video review of the MSI GE62 7RE Apache Pro
.