Press Release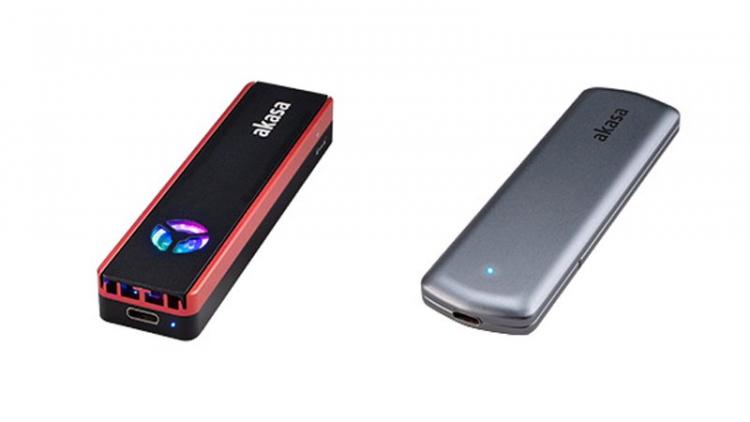 Akasa has added two new aluminium enclosures for M.2 drives to the current range of products – a Portable Aluminium enclosure and the Vegas SSD Mate. The Akasa Vegas SSD Mate features RGB lighting and active fan cooling. The two new M.2 enclosures are compatible with both SATA and NVMe drives. They also feature USB 3.1 Generation 2 connectivity and UASP support that delivers fast data transfer speeds from your M.2 drive of up to 10 Gb/s.

Both enclosures use high-quality aluminium and have a tool-free design for easy installation allowing users to swap M.2 drives quickly. The aluminium housing works as a heatsink to keep the installed M.2 drive cool. Furthermore, the Vegas SSD Mate takes cooling a step further with its built-in RGB fan.
Akasa Vegas SSD Mate
The Akasa Vegas SSD Mate (AK-ENU3M2-06) features an RGB fan embedded in the aluminium structure of the enclosure and helps with heat dissipation. The small but mighty fan is also quieter than expected, able to work away without causing much of a disturbance. The Akasa Vegas SSD Mate enclosure perfectly complements RGB-lit gaming PCs. If you require a more modest enclosure, AK-ENU3M2-05 provides a slim, sleek alternative, more focussed towards a low-profile appearance that will still provide excellent heat-dissipating properties.
Pricing
Akasa Portable M.2 Aluminium Enclosure (
AK-ENU3M2- 05
): £43.95/ €46.95
Akasa Vegas SSD Mate Enclosure (
AK-ENU3M2-06
): £53.95/ €58.95