AMD is currently preparing the launch of the RX 5500 graphics card, the AMD B550 chipset, and Radeon RX 5300 XT graphics appear listed online. HP, a major OEM systems manufacturer, have listed its upcoming Ryzen- and Radeon-powered HP Pavilion Desktop PC. This particular desktop PC, with a complete model name of HP Pavilion Desktop TP01-0006ng, is powered by a third-generation AMD Ryzen 7 3700X processor on an HP-brand AMD B550 motherboard. It also comes with the unreleased Radeon RX 5300 XT graphics card with 4GB GDDR5 memory.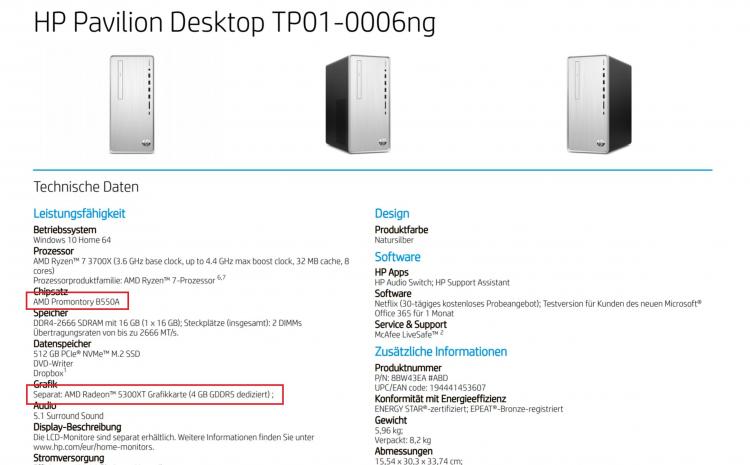 Detailed specifications of the HP Pavilion Desktop TP01-0006ng can be found on the product specification pdf found on the HP Germany website. See link below:
HP Pavilion Desktop TP01-0006ng Product Specification
*
The Pavilion Desktop TP01-0006ng is marketed as a 'gaming' desktop as it comes with the option of being bundled with HP gaming peripherals. The configuration itself suggests a seemingly entry-level to mid-level gaming setup given the capabilities of the Ryzen 7 3700X used on this model and a generous 512GB PCIe NVMe SSD storage. The AMD Radeon RX 5300 XT is expected to be on a lower tier that of the upcoming RX 5500 and RX 5700 suggesting it could be up to par with the
NVIDIA GeForce GTX 16-Series
graphics cards.
Estimated Release Date
Alternate, a German retailer, listed the HP Pavilion Desktop TP01-0006ng model on its webstore which had an expected time of availability by October, suggesting its release date. Alternate pulled down the listing as of this writing.
*this page may be pulled down by HP without notice