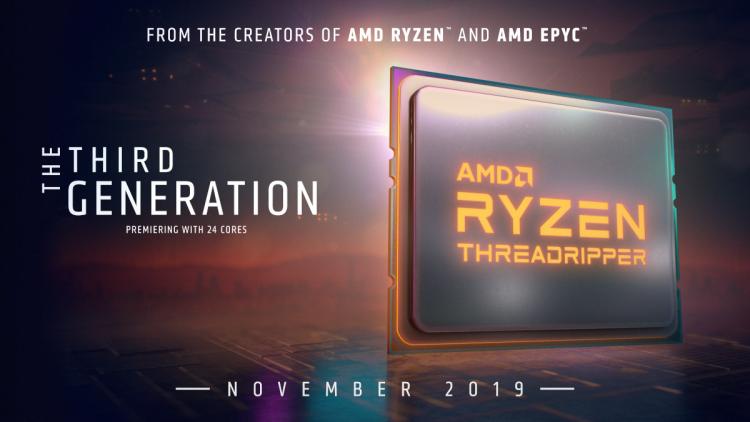 AMD
have finally updated enthusiasts with news on the planned launches for their flagship Ryzen 9 3950X and 3rd Generation Threadripper HEDT CPUs, and sadly it's not good news:
We are focusing on meeting the strong demand for our 3rd generation AMD Ryzen processors in the market and now plan to launch both the AMD Ryzen 9 3950X and initial members of the 3rd Gen AMD Ryzen Threadripper processor family in volume this November. We are confident that when enthusiasts get their hands on the world's first 16-core mainstream desktop processor and our next-generation of high-end desktop processors, the wait will be well worth it.
This will come as a particular blow to customers who pre-ordered the 3950X in the heady days of Spring, preparing their systems (and their wallets) for a September launch.
The reason for this delay hasn't been divulged, but it's easy to speculate. Strong demand for 2nd Gen EPYC CPUs in the high-margin enterprise sector (which feature up to eight of the Zen 2 CCDs as a core component) has to have an impact, as will the perhaps unexpected popularity of the 8-core 3rd Gen Ryzen processors.
Another factor
reported recently
is that TSMC are struggling to meet orders for 7nm silicon, likely in part due to Apple's release schedule, extending the production lead time from two months out to six.
A delay until November will offer Intel a window into which they could launch their expected refresh of the LGA2066 HEDT platform (i.e. 10th Generation Core X), but it's unlikely to affect the Comet Lake launch in early 2020.
Hopefully a November launch for the high performance range will coincide with high availability in all product lines. Until then however we shall have to make do with just 12 cores on AM4... how ever will we cope?