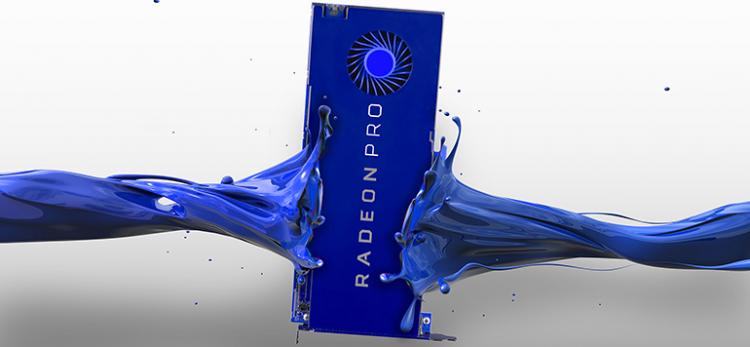 AMD announces the availability of Radeon Pro WX Series graphics cards – new workstation graphics cards designed for creative professionals. The AMD Radeon Pro WX series professional graphics cards features the Polaris architecture introducing the 4th generation Graphics Core Next (GCN) technology and engineered using the 14nm FinFET process. The Radeon Pro WX cards can run displays of up to 5K HDR resolution via DisplayPort 1.4, packed with TrueAudio Next for VR and the state-of-the-art multimedia IP with support for HEVC encoding and decoding. The new Radeon Pro WX series also boasts better energy efficiency compared to the previous generation workstation graphics cards.
Key Features
- Real-time engines and tools are taking over for monolithic design applications
- Low-level APIs such as Vulkan and DirectX 12 now allow developers to write close-to-bare-metal code for greater performance
- Virtual Reality immerses users in a fully realized digital world
- Open source software is driving new levels of capability, unleashing creativity from the limits of any single company.
Radeon Pro WX 4100 graphics card
The Radeon Pro WX 4100 features a sleek and quiet small form factor card with exceptional performance for CAD professionals. This card is specifically designed for SFF workstations. The Radeon Pro WX 41000 packs 4GB of DDR5 memory and 16 compute units (1024 stream processors) delivering 2 TFLOPS and over 2.4X the performance of competing cards of its class. Available this November 10 at US$399 MSRP.
Radeon Pro WX 5100 graphics card
The Radeon Pro WX 5100 is deemed to be the fastest workstation card of its class. It packs 8GB of DDR5 memory and 28 compute units (1792 stream processors) delivering a groundbreaking 3.9 TFLOS. The card will be available this November 18th at US$499 MSRP.
Radeon Pro WX 7100 graphics card
The Radeon Pro WX 5100 graphics card is designed to meet the demands of VR content creators. The WX 5100 packs an 8GB GDDR5 memory and 36 compute units (2304 stream processors) delivering 5.7 TFLOPS. The Radeon Pro WX 7100 will be available this November 10th at US$799 MSRP.
Find out more details on the
Radeon Pro WX graphics cards
at the AMD website.