Apacer Technology introduces the
SDM7-M DP
(SATA Disk Module 7Pin MLC DP) which uses a unique form factor that's very compact, light and thin. The significant reduction in size was achieved through the process of combining flex and rigid boards. The mini SSD supports SATA III (6GB/s) interface which offers speeds of up to 525 MB/s read and 350 MB/s write. The SDM7-M DP may be small but it offers performance up to par with latest generation SSDs you can find today. It is offered in capacities of up to 256GB and is marketed for a variety of applications including gaming systems, embedded systems, blade server and 1U enterprise rack system systems as well. At this size, the SDM7-M DP sure is an ideal storage option for any application with tight and small cases.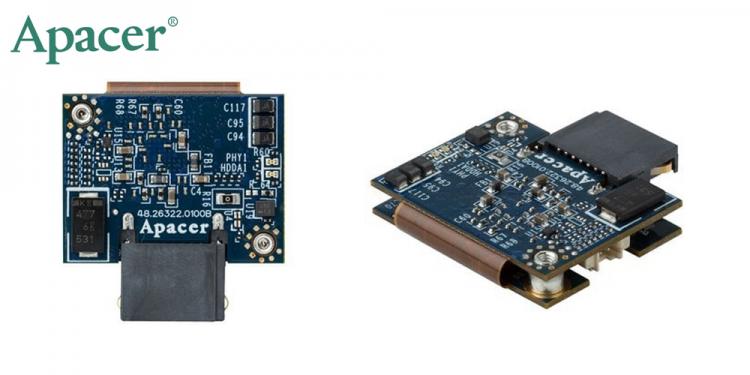 Innovative Rigid-Flex Board Design
The rigid-flex board design of the SSD made it possible to be compact in size, thin and lightweight which didn't only allow a flexible system integration, it also improved signal transmission quality within components. The design also features great stability and shock-resistance to meet standards for industrial-grade specifications.
Plug-and-Play and Cable-less
The SDM7-M DP SSD uses two power connectors with its 7+2 pin design allowing it to be free of an external power supply. This means the SSD can be powered up without the need of a SATA power connector. The SSD is also plug-and-play for easy installation on any application.
Apacer CoreAnalyzer Software
The Apacer CoreAnalyzer is an analytic data-behaviour tool which features collecting and analysing data of clients' host system, this exclusive technology can assist our customers in choosing the most cost-effective solution for their system. Embedded in the firmware of all Apacer SATA SSD, CoreAnalyzer is able to record all read and write operations at the host end and analyse the data stored in the SSD.
Apacer's Multi-PowerPath series SDM is also available in two other options widely adopted for gaming and server applications, i.e. the SDM5A-M 7P 180D LP5(H) and Slim3(H) SSD in 32/64GB capacities.