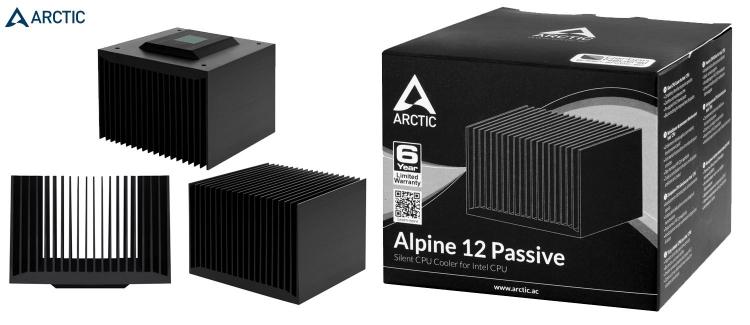 Arctic introduces the new Alpine 12 Passive CPU cooler for Intel socket processors offering efficient and silent cooling for Intel CPUs up to 47W TDP. The Arctic Alpine 12 Passive offers a fully fan-less and silent cooling solution that offers better cooling performance than Intel's bundled stock cooler. The Alpine 12 Passive features black anodising that improves heat dissipation of the heat sink. The micro-porosity resulting from anodizing treatment on the heat sink surface optimizes heat exchange between the aluminium and the surrounding air.
The Arctic Alpine 12 Passive comes with pre-applied Arctic MX-2 thermal compound for a quick and clean installation. The Alpine 12 Passive is exclusively compatible with the
Intel
115X sockets only with an easy mounting mechanism but totally reliable and fool-proof. The cooler has a dimension of 95mm x 96mm x 69mm (WLH) and weighs at 508 grams.
Specifications
Model: Alpine 12 Passive
Noise: 0dB
Cooling Capacity: Up to 47W TDP (TDP > 35W might require downclocking the processor)
Heatsink Type: Aluminium Extrusion
Weight: 508 grams
Packaging Weight: 567 grams
Compatibility: Intel LGA 1151, 1150, 1155, 1156
Availability and Pricing
The Arctic Alpine 12 Passive CPU Cooler is backed by a 6-year limited warranty. The Alpine 12 Passive is estimated to be around $12 USD, availability to be announced. For more information, visit the
Alpine 12 Passive
product page.