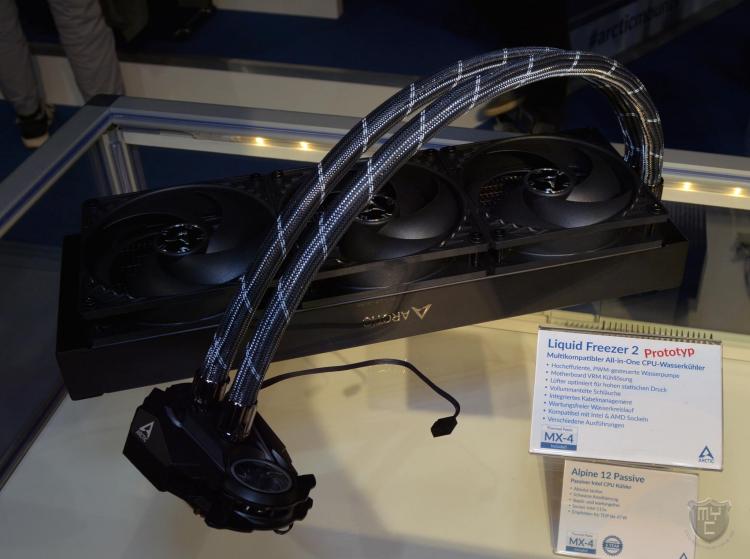 ARCTIC teases its new and upcoming all-in-one liquid CPU cooler on its Facebook page, a prototype of the Liquid Freezer II. It is the second-generation of the Freezer Series features a newly designed pump and waterblock module, premium sleeved tubing and up to 360mm, and the ARCTIC P-fan high-static pressure cooling fans. The new ARCTIC Liquid Freezer II features a PWM-controlled pump. Like the Freezer Series, the Freezer II Series is also a maintenance-free liquid cooler. The ARCTIC Liquid Freezer II will be available in several versions with compatibility with both Intel and AMD sockets. Expected to launch this Summer 2019.
The
ARCTIC
Liquid Freezer II sports a larger pump-waterblock module with a hybrid cooling design having a fan that cools the pump and waterblock as well. ARCTIC reveals the radiator material is aluminium. ARCTIC also assures the waterblock will not interfere with the motherboard VRMs. As for RGB lighting, ARCTIC did not reveal any specification if the Liquid Freezer II sports such but we would assume it will have RGB lighting considering the trend in PC hardware today.
ARCTIC did not reveal pricing as of this writing. Check out
ARCTIC's CPU coolers here
.
Image Source: http://www.mod-your-case.de