ASRock launches the entry-level AMD A620 chipset-based motherboards for the AMD Ryzen 7000 Series Processors. The AMD A620 Series motherboards claims to offer outstanding capability and affordability. These motherboards may be the cheapest AMD AM5 motherboards to come to the market very soon but these motherboards only support DDR5 memory and may still be more expensive compared to Intel's 12th Gen or 13th Gen offerings with the availability of DDR4 memory-supporting motherboard models. Nevertheless, the AMD A620 would still be the cheapest option for users looking into a PC building with the latest AMD Ryzen 7000 Series processors. ASRock currently has four AMD A620 Series motherboards on its lineup - the ASRock A620M Pro RS, ASRock A620M Pro RS WiFi, ASRock A620M-HDV/M.2, and ASRock A620M-HDV/M.2+ motherboards.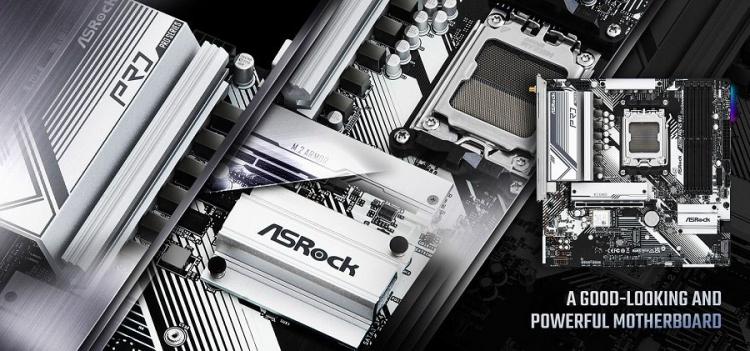 Press Release
Leading global motherboard manufacturer ASRock proudly announces its new series of AMD A620 motherboards. The latest AMD A620 platform aims at a more budget-friendly market while still offering a wide variety of features, such as DDR5 memory support, multiple M.2 slots for NVMe storage devices, and WiFi 6E for daily tasks as well as gaming.
To maximize the affordability of the AMD A620 platform, ASRock offers four models, including both 4 and 2 DIMMs motherboard layout options. If 4 DDR5 memory is a must for your next build, the A620M Pro RS will definitely be the number one choice. It offers a luxurious amount of USBs including Type-C for both front and rear panels, 3 M.2 Key-M onboard and 2 of which support PCIe Gen4 x4 to give multiple storage options. With a 6-layer PCB and Dr.MOS for Vcore design, A620M Pro RS can fully support the latest
AMD Ryzen 7000 Series Processors
. A620M Pro RS also comes with a WiFi 6E variant the A620M Pro RS WiFi, an all-rounder choice for wireless environments.
For 2-DIMMs AM5 users, the ASRock A620M-HDV/M.2+ or A620M-HDV/M.2 is definitely the motherboard for you. Although both motherboards are targeted on the budget-friendly side of the spectrum, they still packed with all the exciting features such as 2 M.2 Key-M for NVMe SSD, USB 3.2 Type-C to support all those modern portable devices, and Dr.MOS design for Vcore to give better power and thermal efficiency for daily tasks, and with up to 6+1+1 power phases on the A620M-HDV/M.2+, light gaming is perfectly achievable with AMD Ryzen 7000X3D series processors with AMD 3D V-Cache™ Technology.
Pricing
The ASRock A620M-HDV/M.2 and ASRock A620M-HDV/M.2+ appear listed on
Newegg
for $85.99 and $99.99, respectively. These are the first AMD A620 motherboards to hit the North American market. To learn more, visit the product page links below.
ASRock A620M Pro RS
ASRock A620M Pro RS WiFi
ASRock A620M-HDV/M.2
ASRock A620M-HDV/M.2+