Looking to buy a new GPU, but want that money to go just a little bit further this holiday season? Well you're in luck; today
NVIDIA
and
Ubisoft
are partnering in a new promotion involving the latter's upcoming autumn AAA titles, each of which features new high-end gaming technologies from NVIDIA Gameworks. Introducing the
Pick Your Path
bundle.
From today those in the market for a high-end desktop GPU can pick up an
NVIDIA GeForce GTX 980
,
GTX 970
,
GTX 780 Ti
or
GTX 780
from participating retailers and qualify for
Pick Your Path
, giving them access to either
Assassins Creed Unity
,
Far Cry 4
or
The Crew
at no additional cost. If laptop gaming is more your style then fret not, new laptops sold with
GeForce GTX 900M graphics
also qualify for the Pick Your Path bundle.
This new bundle deal runs from November 4, 2014 through to January 31, 2015.
If you're on the lookout for something a little more affordable NVIDIA are also continuing their
Free To Play bundle offer
through Fall 2014, crediting your in-game coffers with up to $150 worth of War Thunder, Strife and Infinite Crisis currency.
Path of the Assassin: Assassins Creed Unity
Set in Paris during the French Revolution, the latest entry in the franchise sets you against the Templar's in an all new setting and updated cast of characters. You play Arno Dorian, an young man with both Assassin heritage and Templar adoptive family. Exploring his future in the past is key to unravelling the mystery of this installment. The title also features cooperative multiplayer for the first time, allowing you to complete missions with up to three of your closest allies.
Assassin's Creed Unity makes extensive use of NVIDIA Gameworks technologies for improved performance and visual fidelity optimised for NVIDIA GPUs. Building on Black Flag, Unity includes support for HBAO+, TXAA, PCSS and DirectX 11 Tessellation; combining these will greatly improve shadow detail and dynamics as well as greater geometric detail on surfaces which might otherwise appear to be flat. See the video above for examples of these technologies in action.
"NVIDIA has worked hard, hand-in-hand with our development teams, to help provide the best experience for our PC players," Jean-Francois St.Amour, Lead Graphics Programmer at Ubisoft Montreal has been quoted as saying. "Their support and insight is even more important now, as we make a big technological leap into the next-generation of Assassin's Creed games."
Assassin's Creed Unity is released on November 11th in North America, November 13th in the UK and EU.
Path of the Freedom Fighter: Far Cry 4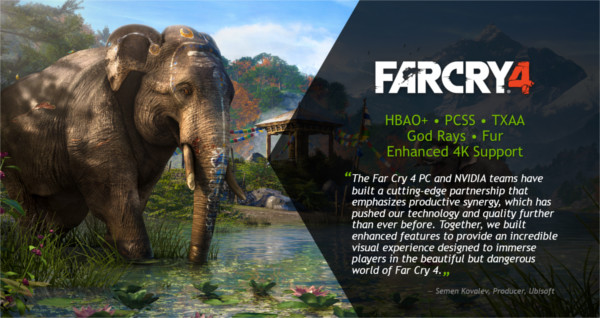 It's going to be hard to top the mayhem and menace of Far Cry 3 but their fourth outing for this top of the line franchise aims to do just that. As Nepalese Native Ajay Ghale you face off against the notorious self-appointed king Pagan Min, becoming embroiled in a civil war likely to tear the region apart. FPS gameplay and pseudo-RPG elements should be familiar to those who have played the previous title, but new features like being able to ride a elephant into battle should be enough to whet the appetite of the meanest of naysayers.
Far Cry 4 includes HBAO+, TXAA, PCSS and DirectX 11 Tessellation technologies seen in Assassin's Creed Unity, but adds to the mix DX11 God Rays and NVIDIA Hairworks. Generating more picturesque scenes and realistic animals are therefore features to watch in this new title, due November 18th in North America and 20th in EU/AUS.
Path of the Racer: The Crew
A new franchise coming in December to all platforms, The Crew is the latest title to seek arcade racing crown. Such games have in the past been relegated to consoles, but this time around Ubisoft are pushing for a PC release which features the best visual fidelity and uncompromising gameplay to take advantage of the hardware possibilities available on the PC platform.
The Crew will feature support for HBAO+ and TXAA, matching improved shadows with excellent temporal-based anti-aliasing for a smoother and more visuall pleasing gameplay experience. It will also unlock G-SYNC Surround, allowing users with multiple G-SYNC monitors the opportunity to sync output frame rates with monitor refresh rates across their whole monitor array. Those who recognise the importance of running at 60FPS on non-G-SYNC monitors when seeking immersion will understand the potential for G-SYNC with such a wide field of view.
For more information on the Pick Your Path bundle check out
NVIDIA's blog
. Pick Your Path code redemption and full Terms and Conditions can be found
here
. This offer is set to expire on the 31st January 2015.