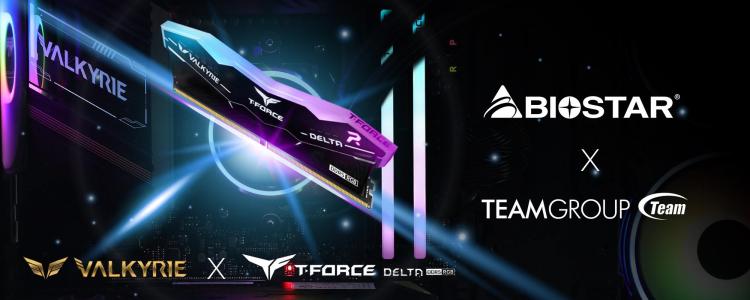 The BIOSTAR VALKYRIE Series motherboard is one of the newer designs from the brand that sports gaming-oriented aesthetics and features. Until today, BIOSTAR never got to collaborate with other PC hardware manufacturers to create themed components that aesthetically complement each other like the concept behind the ASUS TUF Gaming Alliance and ASRock Phantom Gaming. BIOSTAR has collaborated with TEAMGROUP to create the T-FORCE DELTA RGB DDR5 VALKYRIE Edition DDR5 gaming memory – embellished with design elements of BIOSTAR's flagship VALKYRIE Series.Press Release
BIOSTAR today is excited to announce the partnership with leading memory brand TEAMGROUP to release the all-new T-FORCE DELTA RGB DDR5 VALKYRIE Edition DESKTOP MEMORY.
The new T-FORCE DELTA RGB DDR5 VALKYRIE Edition desktop RAMs are the collaborative effort of two leading tech brands, TEAMGROUP and BIOSTAR. Carrying the legendary DNA of BIOSTAR's flagship VALKYRIE design language and T-FORCE DELTA RGB DDR5 DESKTOP MEMORY technology, the all-new T-FORCE DELTA RGB DDR5 VALKYRIE Edition RAMs bring superior design, technology, and next-level engineering with jaw-dropping performance unparalleled in its class.
Its stealth fighter-influenced look features the signature wide-angled heat spreader with mesmerizing RGB lightning, unlike any other RAM on the market. Powered by a next-generation intelligent RGB control chip, it allows users full reign over limitless lighting customization using BIOSTAR's Advanced VIVID LED DJ software to create a highly personalized ambiance inside the system.
Furthermore, the signature golden wings logo of BIOSTAR's VALKYRIE, together with T-FORCE's iconic wings logo, signify the Norse warriors' majestic wings and stands as a symbol of power and authority with its sleek streamlined design elements.
BIOSTAR and TeamGroup combine next-generation DDR5 performance with supporting features like Intel XMP3.0, which allows users control over extreme overclocking capability to extract the maximum performance out of their system for a buttery smooth gaming experience. Designed to look and function in perfect synergy with BIOSTAR Valkyrie series motherboards, the new T-FORCE DELTA RGB DDR5 VALKYRIE Edition DESKTOP MEMORY further carries a special thermally conductive silicone and power management chip (PMIC) that allows significant heat reduction, resulting in a stable performance at higher clock speeds.
Available in 2x16GB kits in two clock speed specifications of 5,600MHz and 6,000MHz, the new T-FORCE DELTA RGB DDR5 VALKYRIE Edition DESKTOP MEMORY will be ready to purchase soon on
AMAZON US
in late October. Stay tuned to BIOSTAR's Social media for further information on the release date and pricing.
Features
First T-FORCE x VALKYRIE Crossover
Fearless with Valkyrie
Strengthened PMIC Cooling Design
High-Quality ICs Selected for Stability & Reliability
Support for Intel XMP3.0 for One-Click Overclocking
On-die ECC for Stable, Reliable System Performance
Lifetime Warranty
To learn more, please visit the
TEAMGROUP website
.