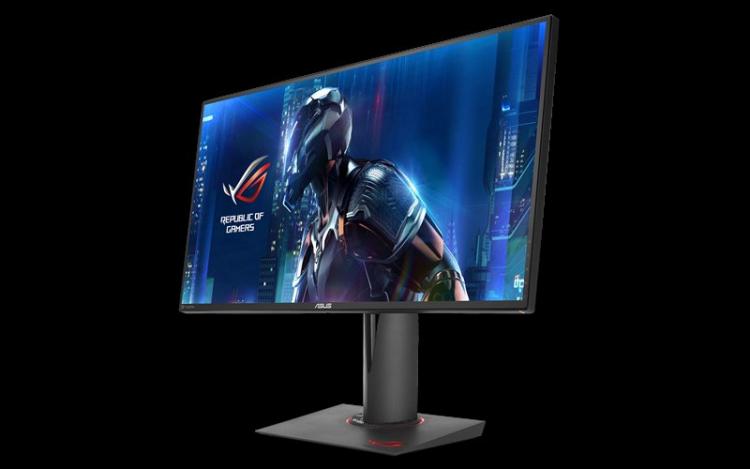 It's starting to look less like Black Friday than Black Week at etailers as prices continue to fall on a range of electronics. In the spotlight today are ASUS and their Republic Of Gamers off-shoot, who have a huge selection of items with money off across UK etailers. As examples, we've picked out a few highlights:
ROG SWIFT PG279Q
- A 27" 165Hz display with NVIDIA G-SYNC, this 1440p monitor is an ideal pairing for a high-end GTX 1080 or 1080 Ti GPU. CCL have it on sale for £687.70, a whopping £187 off their previous price.
ASUS-FX503VD
- an entry-level gaming laptop equipped with NVIDIA GTX 1050 and Intel i5-7300, this could be just the ticket for a student or particularly opulent holiday gift for a PC gamer new to the flock. At £230 off, it's priced at just £599.99 on Amazon.co.uk.
ASUS PRIME X370 Pro
- Ryzen is a great choice for a new build this season, and Maplin have priced up this X370 AM4 motherboard at a tempting £134.99, £30 off their list price.
ROG Claymore 100% Mechanical Keyboard
. 25% off from Overclockers.co.uk, this mechanical keyboard features Cherry MX Red RGB switches and supports ASUS AURA RGB lighting systems. Grab it for £149.99.
We've reproduced a full list of deals at various retailers supplied by ASUS, including links to the offers themselves, below. More deals are scheduled for Black Friday itself though, so keep your eyes peeled.
Full Deal List:CCL
ROG Swift PG258Q £74.92 off - £484.99 + Assassin's Creed: Origins
ASUS VS248HR - £31.25 off - £114.99
ROG Swift PG279Q - £186.40 off + Free Assassins Creed Origins Game
ASUS TUF Z370-Plus Gaming - £9.20 off - £130.79
ASUS VP247HA - £52.45 off - £97.98
eBuyer:
ROG Swift PG348Q £55 off
ASUS VP228HE - £20.22 off
ROG Strix 1050ti 4GB - £11.86 off
ASUS VX24AH - £21.57 off
ASUS MX279H - £14 off
ASUS Dual 1070 - £121.91 off- £349.97
ASUS Phoenix 1060 3GB - £28 off - £184.98
Overclockers:
ROG Gladius – 28% off - £35.99
ROG Crosshair VI Hero – 22% off - £209.99
ASUS Prime X370-Pro – 11% off - £139.99
:
ASUS Prime B350M-A – 10% off - £71.99
:
ROG Zenith Extreme – 3% off - £499.99
:
ROG Claymore 100% - Blue, brown and red switch options – 25% off - £149.99
Currys:
ASUS RP-AC52 WiFi Range Extender - £5.00 off - £29.99:
ASUS ZenBook UX530 - £100.99 off - £999.99:
ASUS VivoBook Pro 15 - £200.00 off - £1,099.99:
ASUS RT-AC5300 - £34.99 off - £299.99:
ASUS RT-AC88U - £45.00 off - £224.99:
ASUS ZenWatch 3 - £30.00 off - £199.99:
Maplin:
ASUS RT-AC5300 - £12 off
ASUS TUF Z270 Mark 1 - £25 off
ASUS DSL-N66U £45 off
ASUS Prime X370 Pro - £30 off
ASUS USB-N53 - £5 off
ASUS Phoenix GTX 1060 3GB - £12 off
ASUS ROG Strix GTX 1070 8GB - £40 off
Amazon:
ASUS RT-AC88U - £139.25 off - £224.99
ASUS RT-AC87U- £70.29 off - £135.99
ASUS RT-AC1200G - £22.63 off - £53.99
ASUS MB1659B+ - £33.77 off - £161.39
ROG Gladius II - £22.30 off - £57.69
ROG Pugio - £11.40 off - £58.59
ROG Centurion - £45.80 off - £174.19
ASUS PL-N12 - £20.14 off - £60.02
ROG Sheath - £7.90 off - £26.09
ASUS FX503VD - £230 off - £599.99
ASUS VC239H £36.30 off - £123.69
ASUS VP278H £176.19 off - £149.97