PRESS RELEASE
Taipei, Taiwan – 1st, Oct. 2013 – Cooler Master
, a leading creator, innovator and manufacturer of desktop components and more, today released the highly efficient and powerful
VS Series Power Supplies
(PSU).
High Efficiency Design
Developed to improve efficiency and increase heat dissipation, VS Series PSUs are manufactured with a unique 3D circuit design. This special design minimizes unnecessary cabling which results in lower crosstalk and signal noise. Less cables means more open space to provide improved airflow to core components. A single, powerful rail platform channels the power of VS Series PSUs for superior load balancing and better compatibility with graphics cards. High-grade Japanese capacitors help mitigate the affect of power fluctuations while extending overall PSU system life and creating excellent holdup times. A custom DC-DC module further increases operational efficiency and voltage stability. A firm 80 PLUS Gold certification is the net result of these many improvements.
For added ease of use and ability to manage cables, VS PSUs include a semi modular flat ribbon cable system. Only the most basic system cables are directly attached, leaving it up to the user to decide what will be necessary for their build. Those that enjoy easy cable management will appreciate the included flat ribbon cables that give users the ability to compress and arrange their cables in clean and compact ways not possible with traditional and individually sleeved cabling - saving time and enabling builds with the best possible airflow.
Features
* Unique 3D circuit design offers high efficiency and improves the heat dissipation. It reduces the unnecessary cables which results in much lower crosstalk, signal noise and improves airflow
* Powerful Single +12V rail for superior load balancing and VGA compatibility
* Modular cable designs for better cable management
* Japanese capacitor ensures an extended lifetime and excellent holdup times, in case of power fluctuation.
* Custom DC-DC module design offers higher efficiency and voltage stability
* 80 PLUS Gold certified: up to 92% efficiency @ typical load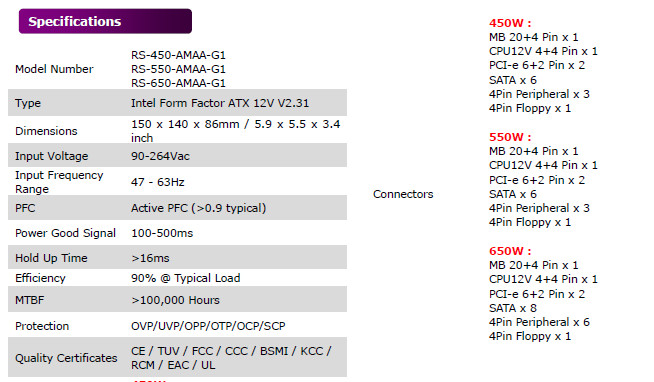 Pricing
Pricing will be as follows (MSRP inc VAT):

VS Series V450S - 450W : RS450-AMAAG1-UK : £79.99

VS Series V550S - 550W : RS550-AMAAG1-UK : £89.99

VS Series V650S - 650W : RS650-AMAAG1-UK : £99.99
The VS Series will be available in 450W, 550W and 650W models. Price and availability may vary based on region (UK RRP shown above).