Cooler Master
have been teasing the
CK/MK721 keyboard
for well over a year now, but neither hide nor hair has appeared in Western markets to date. That may finally be changing in the near future however as the
Chronos Summit
, their ongoing product showcase and series of seminars occurring until mid-March, finally takes the wraps off the compact wireless peripheral ahead of its imminent NA and EU release.
The MK721 is a 'hybrid-wireless' 65% Mechanical Keyboard that features versatile connectivity options that make it suitable for gaming and use 'on the go'. Switchable USB Type-C, 2.4GHz Wireless and Bluetooth options support up to three separate systems (including smartphones and tablets in the latter case), and the design is just 65% the footprint of the full-sized QWERTY design. But there's plenty more packed into this one.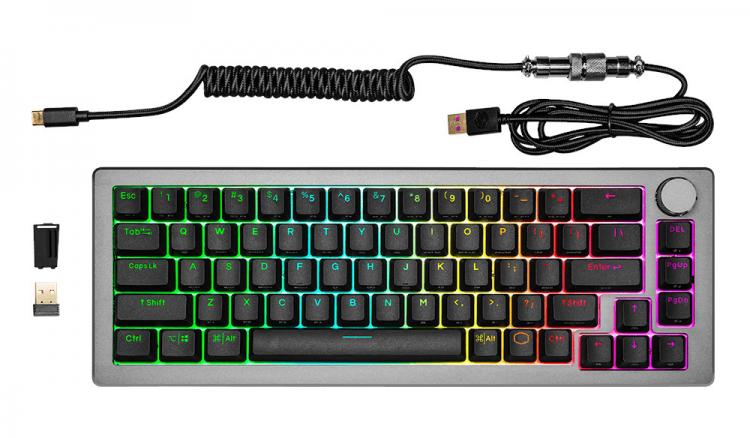 Cooler Master have opted for TTC-branded switches on the CK/MK721 in the choice of either Red (Linear), Blue (Light/Tactile) or Brown(Heavy/Tactile) styles. Keycaps are PBT double-shot for excellent feel and long-term durability. Construction is from a combination of plastic and aluminium for a premium-feeling finish, and full-layout RGB lighting is supported.
Many competing designs utilise the slightly smaller 60% layout standard. Pushing to 65% allows the inclusion of dedicated arrow keys inset into the main keyset, page-up, page-down and delete keys, and a multi-function customisable dial. The connectivity selector switch is located on the edge, rather than taking up valuable real-estate. Standard Multi-media key functionality is accessed through an FN modifier key.
All this is packed into a very attractive design that add flair to the conventional compact <tenkeyless keyboard chassis, making it a model for all-comers to take interest in.
Technical Specifications
PRODUCT NUMBER:- CK-721-SKTR1
KEYBOARD SWITCH TYPE:- TTC Mechanical Switch (Red)
KEYBOARD MATERIAL:- Sandblasted Aluminum, Plastic
KEYBOARD COLOUR:- Silver White
KEYBOARD KEYCAPS :- ABS Painting & Laser-engraved, OEM Profile
KEYBOARD LED COLOUR:- 16.7 Million RGB

KEYBOARD RESPONSE TIME:
- Wired/2.4GHz Mode: 1ms
- Bluetooth Mode: 8ms
KEYBOARD POLLING RATE:
- Wired/2.4GHz Mode: 1000Hz
- Bluetooth Mode: 125Hz

ON-THE-FLY SYSTEM:- Yes
CONNECTIVITY:- Wired / 2.4GHz / Bluetooth 5.1
CHARGING :- Support Wired Charging
BATTERY:- 2000mAh
BATTERY LIFE:- 73hrs (LED Off)
KEYBOARD MULTIMEDIA KEY:- Through Function Key (FN)
COMPATIBLE OS:- Windows 8+ / Mac OS X 10.10+ / Android / iOS
SOFTWARE SUPPORT:- Yes, Cooler Master MasterPlus+
KEYBOARD CABLE:- 1.8m, USB Type-C to Type-A, Detachable & Braided
KEYBOARD DIMENSIONS (L X W X H):
- Standard: 334 x 118 x 37 mm / 13.15 x 4.65 x 1.46 inch
- With 1st-stage feet open: 334 x 118 x 43 mm / 13.15 x 4.65 x 1.69 inch
- With 2nd-stage feet open: 334 x 118 x 46 mm / 13.15 x 4.65 x 1.81 inch

KEYBOARD WEIGHT:- 764g /1.68lbs (without cable & dongle)
WARRANTY :- 2 years
UK retailers have begun listing the CK721 in Grey or Silver at a pre-order price of £129.99 inc. V.A.T., with stock projected to be available on March 24th. Specific switch types are potentially restricted based on region, with TTC's Red style being most common.