The CORSAIR Hydro X Series watercooling components appeared at a Swiss online store which includes a selection of fittings, tubing, pump, reservoir, waterblocks and other components to create a CORSAIR-brand custom watercooling system. It has been rumoured that CORSAIR took the engineers that left EK Water Blocks, a well-established company that manufactures custom watercooling components and has been a partner with other major PC hardware brands like MSI with its Sea Hawk Series graphics cards. Since CORSAIR's acquisition of EKWB's engineers, there has been an expectation of CORSAIR releasing its own line-up of custom watercooling hardware.
Digitec.ch lists an assortment of watercooling components which suggests two major options in building CORSAIR's custom watercooling which is either using Softline tubing or Hardline tubing. Both the Softline tubing and Hardline tubing options has its own set of adapters, fittings, and even a shutoff valve. Fittings and adapters are available in four colours: gold, chrome, black, and white. Radiator options include sizes in the 120mm and 140mm fan form-factor having 420mm (3x140mm) and 480mm (4x120mm) as the largest radiator options. The CPU waterblock is available in silver and black which also sports RGB lighting. CORSAIR also has a GPU waterblock for the GeForce RTX 2080 Ti Founders Edition and GeForce RTX 2080 Founder Edition graphics cards. The CORSAIR Hydro X Series CPU waterblocks, GPU waterblocks and pump/reservoir feature RGB lighting powered by CORSAIR iCUE.
Corsair Hydro X Series XC9 RGB
Corsair Hydro X Series XC7 RGB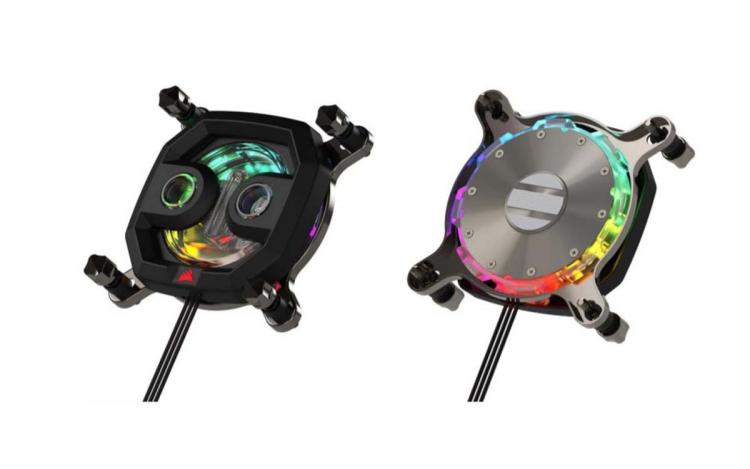 Corsair Hydro X Series XD5 RGB
Corsair Hydro X Series XG7 RGB 2080 Ti Fe


Pricing and availability of the CORSAIR Hydro X Series components are yet to be validated.