PRESS RELEASE
FREMONT, California - January 18th 2016 - Corsair®
, a world leader in enthusiast memory, PC hardware and components, is pleased to announce the global availability of its fastest ever
Vengeance LPX 128GB, 64GB and 32GB DDR4 kits
. Boasting frequencies of up to 3,600MHz, these new XMP 2.0 kits bring high-frequency performance to even the largest capacity DDR4 modules.
Corsair's fastest 128GB DDR4 kit ever, the Vengeance LPX 128GB (4x16GB) 3,000MHz is designed to push Intel's X99 quad-channel platform to the next level, reaching frequencies of 3,000MHz or higher. With full XMP 2.0 support and running at 1.35V with CL16-18-18-36 low latency timings, the kit offers both the massive capacity and high-frequency DDR4 performance required by top-end work stations running the most demanding applications.
Also joining the Corsair DDR4 lineup are the new Vengeance LPX 64GB (4x16GB) 3,333MHz and Vengeance LPX 32GB (4x8GB) 3,600MHz kits, the highest frequency 64GB and 32GB DDR4 kits Corsair has ever produced. Both are optimized for Intel's Z170 dual-channel platform, with the Vengeance LPX 64GB (4x16GB) 3,333MHz kit running at 1.35V with CL16-18-18-36 timings, while the Vengeance LPX 32GB (4x8GB) 3,600MHz kit runs at 1.35V with CL16-19-19-39 timings. The result is great looking, fully-matched memory offering both high-capacity and high-frequencies, and with XMP 2.0 a single BIOS setting is all that's required to unlock their full performance potential.
All three new high-speed kits are clad in Corsair's black Vengeance LPX heat spreader to improve thermal transfer, with the 64GB and 32GB kits also available with red heat spreaders. All three kits also include Corsair's Vengeance Airflow cooling system, a removable 40mm fan cooling bracket fitted to each bank of DIMMs that provides reliable airflow to ensure modules remain cool and stable regardless of load.
Be it video editing, 3D rendering, 4K gaming or content creation, these 128GB, 64GB and 32GB kits offer extensive compatibility, huge capacity and high-frequency performance to suit even the most demanding applications.
Pricing and Availability
All three kits are available immediately through Corsair's worldwide network of retailers and distributors.
Black Vengeance LPX 128GB (8x16GB) 3,000MHz - CMK128GX4M8B3000C16 - $1,174.99 Exc. Tax

Black Vengeance LPX 64GB (4x16GB) 3,333MHz - CMK64GX4M4B3333C16 - $549.99 Exc. Tax

Red Vengeance LPX 64GB (4x16GB) 3,333MHz - CMK64GX4M4B3333C16R - $549.99 Exc. Tax

Black Vengeance LPX 32GB (4x8GB) 3,600MHz - CMK32GX4M4B3600C18 - $349.99 Exc. Tax

Red Vengeance LPX 32GB (4x8GB) 3,600MHz - CMK32GX4M4B3600C18R - $349.99 Exc. Tax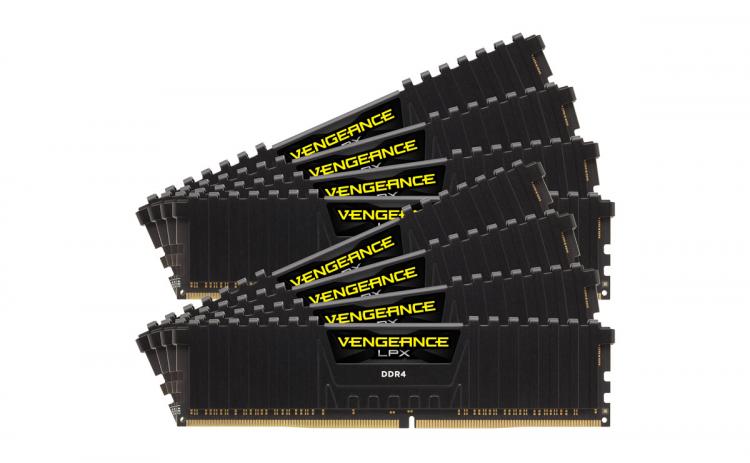 For more information on the Corsair's range of Vengeance LPX DDR4 memory, please visit
http://www.corsair.com/memory/vengeance-lpx-series
For more information on the Corsair DDR4, please visit
http://www.corsair.com/DDR4