DeepCool
, specialists in all things PC cooling, have announced two new products intended for enthusiasts and performance users alike.
First up is a new addition to the GF fan series - the 140mm
GF140 FDB
, designed for PC chassis and CPU coolers. In common with many others of this size DeepCool make use of an octagonal frame, reducing much of the bulk normally associated with fans this size. The fan also makes use of a Fluid Dynamic Bearing motor (hence its name) which should increase average life-span, and like the GF120 (its smaller sibling) includes a detachable impeller, allowing the end-user to more easily clean the fan and refresh lubrication. Unlike the GF120 the frame includes silicone pads rather than a non-vibration treatment to the whole frame, performing the same vibration dampening role that's further augmented by the use of silicon/rubber bolts.
The GF140 operates between 700 and 1200RPM, pushing up to 71.8 CFM of air at a noise level between 17.6 and 26.7 dBA. As you might expect the model makes us of a 4-pin PWM connector for finer monitoring and control of the fan through software and UEFI BIOS.
The second product announced is a new variant of the Assassin CPU cooler, the
GamerStorm Assassin II
. A natural evolution of the original design, the Assassin II is a dual-tower high performance CPU cooler optimised for high heat dissipation through a large fin surface area and moderate to high air flow. DeepCool's implementation of this style incorporates two fans, one 120mm and one 140mm, which in the Assassin II are of the newer GF-series design.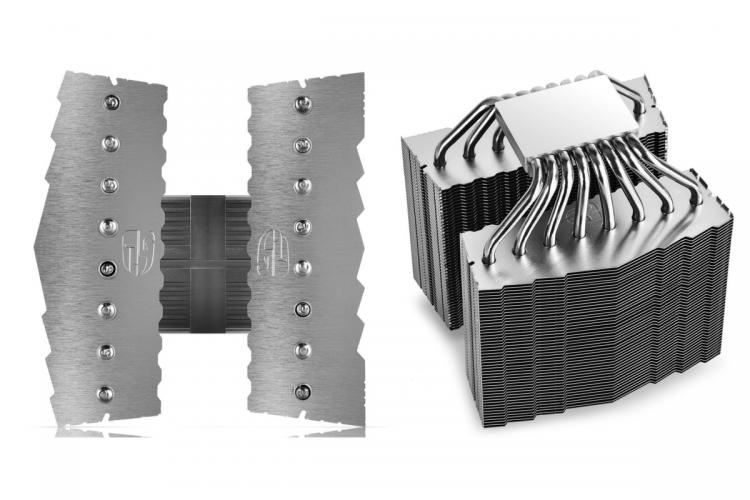 A large beastie, the Assassin II weighs 1.48 kg (inc. fans) and measures 143 mm x 158 mm x 167 mm (WxDxH). Heat transfer from the cooler base to the fin stacks is via eight nickel-plated copper heatpipes. The mounting mechanism is compatible with Intel LGA1150/1155/2011 (including Haswell-E) sockets and AMD's AM3+ and FM2+ standards.
Unlike some dual-tower coolers the Assassin series doesn't have a symmetric fin profile (most easily seen when viewed from the top), instead conforming to a distinctive 'shark teeth' appearance. This feature, which aids heat conduction by improving air flow between the fins, underwent a further iteration with the Assassin II that de-emphasises the teeth on the leading and trailing faces in favour of more subtle profile. The teeth are still there, but they're not quite so pronounced and should make fitting fans slightly easier.
Neither pricing nor availability information for either the GF140 or the GamerStorm Assassin II have been provided.