Earlier this year, Deepcool introduces its own patented technology called 'Anti-Leak Tech' which Deepcool will be incorporating to its latest liquid CPU coolers. Today, Deepcool officially launches the Castle RGB V2 liquid CPU coolers featuring the Anti-Leak Tech. The Deepcool's exclusive Anti-leak Technology helps the liquid cooler to achieve automated pressure balance, which will significantly improve operation safety of AIO liquid cooling systems.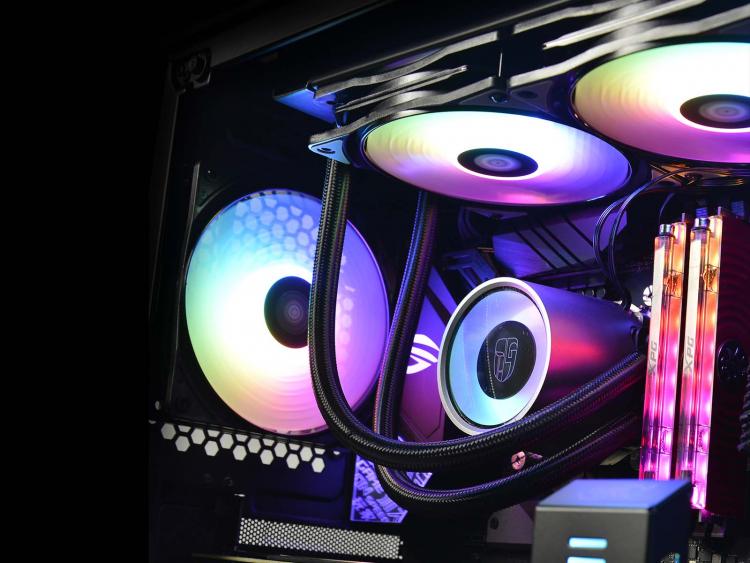 Anti-Leak Tech
Deepcool's Anti-Leak Tech works primarily by fitting an elastic pressure-relief bag/bladder inside the radiator. The internal volume of the bag is exposed to the outside air, while the exterior of the bag is surrounded by coolant fluid. As coolant and gas pockets within the radiator heat and expand as components are placed under load, so the bag will be compressed freely and relieve the internal pressure. As a result, the cooling assembly itself (radiator and other components) does not expand to the point of leakage.
Premium Aesthetics
The new Deepcool Castle RGB V2 CPU coolers inherits the same mirror finish and immersive lighting on the pump. The Castle RGB V2 coolers come with RGB fans, both the RGB lighting on the fans and pump sport 16.7m colours and supports synchronization with RGB controllers and via the motherboard RGB header. The Deepcool Castle RGB V2 coolers come with its own RGB controller with 5 built-in RGB lighting effects - dynamic, static, breathing, comet, and fashion collision.
The Deepcool Castle RGB V2 is available in two distinct models based on the radiator size: Deepcool Castle 240 RGB V2 and Castle 360 RGB V2. Both support the latest AMD and Intel mainstream sockets including AM4 and TR4. The
Castle RGB 240 V2
and
Castle RGB 360 V2
are now available at partner resellers worldwide with an MSRP of $109.99 USD and $139.99 USD respectively.