PRESS RELEASE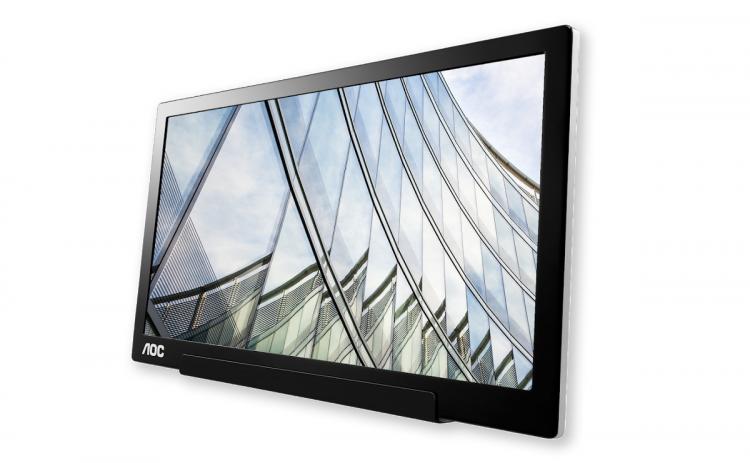 Amsterdam, 15 May 2018 –
Display specialist
AOC
announces a new, portable monitor with USB-C connection. Do you have a mobile work or lifestyle but need more display than a single screen of your laptop? The
I1601FWUX
is the solution with a 15.6" (39.6 cm) IPS display in FHD resolution (1920 x 1080 pixels). The smart cover added to the monitor set acts as the panel holder in portrait and landscape modes and the built-in auto-pivot feature rotates the display into the correct orientation. Its stylish design with 8.5 mm thickness and only 800 g weight ensures, that the monitor comfortably fits in any bag. An elegant, stylish, portable solution to easily expand your screen real estate: The I1601FWUX will be available in Europe from May 2018.
More viewing space – anywhere you go
Not satisfied with the size of your laptop's display and you would like to expand your screen real estate? You need to present a proposal to potential clients without them having to look over your shoulder? Or you finish some work spreadsheets while being on the train or plane? The possibilities are endless; AOC delivers the latest USB-C technology for portable displays, in the most elegant, ultra-thin solution: the I1601FWUX.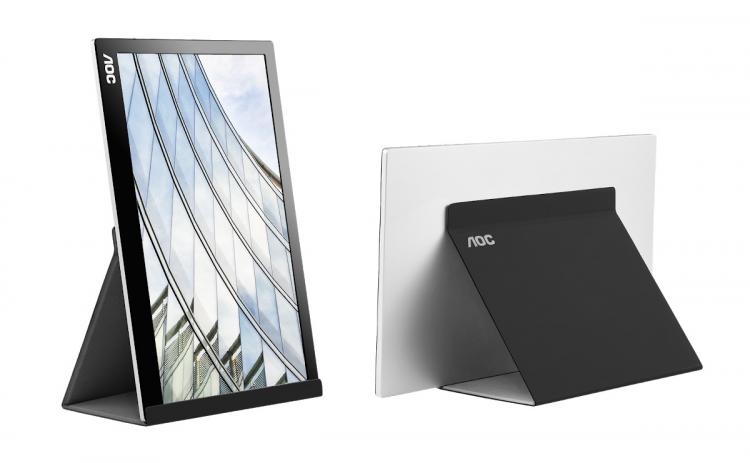 The I1601FWUX uses the USB Type C technology to both connect the display signal and power. Instead of older USB powered displays, the USB-C port includes the high quality DisplayPort signal and the power connection in one cable, reducing clutter and providing a true mobile display experience. The 15.6" size of the display matches the common display size of most multimedia laptops, whilst the height of the holder allows a same-level display setup with your laptop.
Visually stunning
Thanks to its compact size, the I1601FWUX fits in most laptop bags. The monitor only weighs 800 grams, and is ultra-thin with just 8.5 mm thickness.
When it's out and set up, the I1601FWUX will impress onlookers with the premium die-cast metal back cover, while the IPS display in front with 160/160° viewing angles ensures multiple users will see vivid, uniform images. The display also comes with AOC's Low Blue Light mode, reducing potentially harmful blue light and preventing users' eye fatigue and provides a comfortable usage throughout night and day, thanks to its 220 cd/m² brightness.
Practical and convenient
The I1601FWUX's IPS display has a pixel response time of 5 ms GtG, meaning fast moving action scenes or fast-paced games will be smooth and smear-free. The included smart cover protects the display when not using it and toting it along. And when the display is in use it transforms into a display holder for both landscape and portrait modes. Changing the orientation of the display is also easy with the Auto-Pivot feature activated by the AOC i-Menu software, which makes the display automatically align into the correct orientation when it is rotated.
The AOC I1601FWUX is expected to be available in May 2018 at an MSRP of £199.