Press ReleaseEK Water Blocks introduces the EK-Velocity Strike RGB CPU water blocks - newest members of EK-Velocity line-up off high-performance water blocks for popular AMD and Intel CPU sockets. It features a newly developed aesthetical top with a diagonal strike-through design mixing matte black and silver or black nickel and black for an elegant and striking look. The 45-degree line across the centre of the block perfectly matches with some of the high-end motherboards that are on the market today. The EK-Velocity Strike also comes with RGB support with and an RGB-lit EKWB logo. It comes with a 4-pin RGB LED connector which can be connected with the motherboard's RGB header for RGB customisation and synchronisation.
EK-Velocity Strike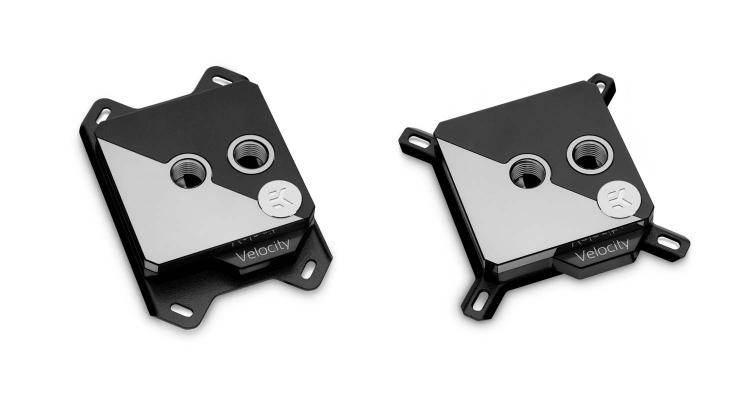 EK-Velocity Strike is featuring the fifth iteration of the award-winning EK cooling engine which is further tweaked to perfection. Built upon a decade of experience in liquid cooling, EK Velocity series CPU water blocks are a product of countless hours of simulations, research and market-leading engineering.
The top is CNC machined out of a solid piece of brass which is coated with black chrome or matte black, while the aesthetic cover piece is made of black anodized brushed aluminium or pure brushed aluminium. The purest copper available on the market is used for the EK-Velocity Strike cold plate which is precisely machined to a dense micro-fin structure. The contact surface itself is machine polished for better contact with the CPU IHS.
The EK-Velocity Strike CPU water block features a universal mounting mechanism that offers error-preventing, tool-less installation supporting Intel LGA-115x and LGA-20xx sockets out of the box. The mounting screws are streamlined and are even smaller than before for an added aesthetical perfection. The user has to replace the mounting bracket in order to mount the water block to AMD AM4 socket motherboards.
Compatibility
The EK-Velocity Strike series CPU water blocks are compatible with all popular CPU sockets on the market. They feature a universal mounting mechanism that offers error-preventing, tool-less installation, supporting Intel 115x and Intel 20xx Sockets or AMD AM4 sockets, respective to the CPU block model.
Pricing and Availability
The EK-Velocity Strike RGB is now available for pre-order at the EK Webshop and will be shipped out on July 19, 2019. The EK-Velocity Strike RGB is available in two variants: Black Nickel + Black and Matte Black + Silver, both having an MSRP of 139.90€/$149.99USD. See product pages below for more information and to pre-order.
EK-Velocity Strike RGB - Black Nickel + Black
EK-Velocity Strike RGB - Matte Black + Silver