With AMD announcing the pricing and availability of the highly-anticipated Radeon RX VEGA Series graphics cards, EKWB now presents full-cover water blocks for the VEGA graphics cards. Given that the Radeon VEGA series doesn't use GDDR5 NAND flash chips embedded on the PCB, the three upcoming Radeon VEGA cards have identical PCB layouts making the EK-FC Radeon Vega water block compatible to all three graphics cards.
EK-FC Radeon Vega
The EK-FC Radeon Vega is a full-cover water block that offers direct cooling to the GPU, HBM2 memory and VRMs as the coolant passes over these critical areas of the graphics card. This offers superior cooling compared to the stock cooling solution resulting to a higher overclocking headroom. The water block features EKWB's central inlet split-flow cooling engine design that offers the best cooling performance possible and support for reverse water flow without affecting cooling performance. The water block also supports weaker pumps which also yield efficient cooling for the Radeon VEGA graphics card.
Depending on the variant, the base can either be bare copper or nickel-plated. Top can either be an acrylic or POM material. The Plexi model has two pre-drilled slots for 3mm LED lighting for customization. Similar to the water blocks for the flagship NVIDIA graphics card GTX 1080 Ti, the EK-FC Radeon Vega water block also comes with the aesthetic block terminal with an add-on design the reveals the Radeon logo. The water block will also come with a single PCIe slot I/O bracket that replaces the stock 2-slot I/O bracket thus making the entire card a single-PCIe slot thickness. EKWB also offers a complementing back plate white is sold separately.
Compatibility
EK-FC Radeon Vega water block is compatible with multiple reference model AMD Radeon Vega graphics cards series:
-
Radeon Vega Frontier Edition
- Radeon RX Vega 64
- Radeon RX Vega 56
Availability and Pricing
The EK-FC Radeon Vega water block and back plates are now available for pre-order at the EK Webshop and partner resellers. See suggested retail prices below.
EK-FC Radeon Vega: 109.95€
EK-FC Radeon Vega – Acetal: 109.95€
EK-FC Radeon Vega – Nickel: 119.95€
EK-FC Radeon Vega – Acetal+Nickel: 119.95€
EK-FC Radeon Vega Backplate – Nickel: 37.95€
EK-FC Radeon Vega Backplate – Black: 29.95€
Image Gallery
EK-FC Radeon Vega



EK-FC Radeon Vega - Acetal



EK-FC Radeon Vega - Nickel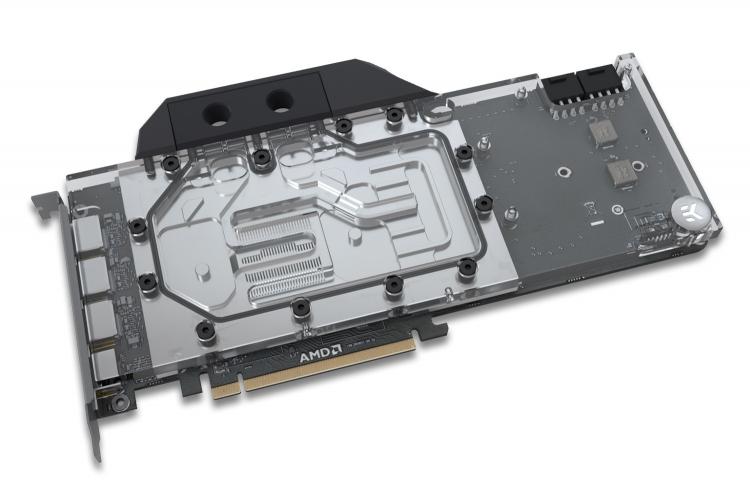 EK-FC Radeon Vega - Acetal+Nickel