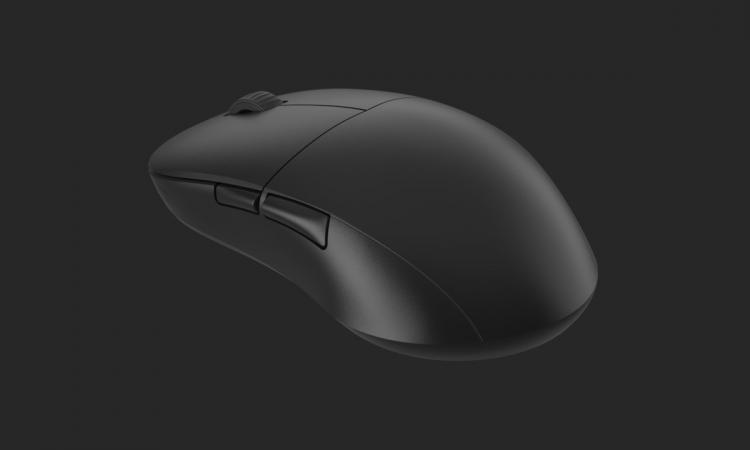 Like so many other peripherals in the gaming space, the
Endgame Gear XM1r
was a mouse design that crept in under the radar in 2021 and became one of the most well-regarded gaming mice not produced by the major manufacturers in the segment. A classical ambidextrous shape was married to a great optical sensor - the PixArt 3360 - in a union that weighed only 70g, it garnered great reviews following its late 2020 launch. And now the same team are unveiling a wireless follow-up that's true to the originals' ethos while expanding in the areas that count.
Designed by engineers with backgrounds in esports, the
Endgame Gear XM2w
has been created with competitive play in mind. The claw grip-optimised shape so popular in the XM1r is retained, but internals see heavy revision that caters to the requirements of wireless mousing.
The XM2w's lightweight design features a 335mAh battery, durable shell design, and includes a top-of-the-range PixArt PAW3395 sensor; and yet it weighs less than 63g. But as a truly novel addition the full package incorporates a Dual-core MCU in both the mouse
and
dongle, offering great portability as a result.
PixArt PAW3395 sensor
PixArt's state-of-the-art PAW3395 sensor can be configured to up to 26000 CPI and has a higher resolution pixel array, providing great accuracy during fast movement with up to 650 IPS and 50g acceleration. Sensor-level Motionsync meanwhile allows for consistent synchronised reporting. Smoothing and angle-snapping have been disabled in order to track data is its rawest form, and the sensor allows for a lift-off distance as low as 1mm.
Power saving features have been carefully considered as befits a wireless mouse. Typically they're disabled when the mouse is corded and optimized when wireless for maximum performance.
Dedicated cores for greater performance
Thanks to the use of an STM32 dual-core MCU (microcontroller unit) in both the mouse and dongle, performance is enhanced by dedicating one core to the operation of the mouse and the other to wireless data transmissions. This then allows for power to be conserved in any wireless mode.
Great acoustics with high durability
Endgame Gear have purposefully selected Kailh GM 8.0 switches to produce rich sounds and high endurance for fast reaction clicking under the two main mouse buttons. The middle click's Panasonic style micro switch of the XM1r has been replaced with a brand new specifically designed mechanical micro switch - the Kalih GM 2.0. The Kalih GM 2.0 switches are also featured in the new side button for enhanced durability and a crisper click.
Patented Analog Click-Detection Technology
Like its predecessors, the XM2w can go beyond traditional signal debouncing to detect clicks thanks to its patented analog technology. Whereas digital signal processing can only detect two levels of feedback (1/0), the XM2w implements an advanced algorithm to drive faster click detection for a reaction time of less than 1ms.
Specifications
Sensor:- PixArt PAW3395
Resolution:- 50 to 26000 CPI in steps of 50 CPI
Acceleration:- 50g
Lift-Off Distance (LOD):- 1mm and 2mm (1mm by default)
Max Speed:- 650 IPS
Microcontroller:- Dual-Core STM32
Polling Rate:- 125, 500 and 1000 Hz (1000 Hz by default)

Ergonomics / Layout:- dextral
Supported Grip Types:- Made for Claw Grip. Palm Grip and Fingertip Grip possible (based on hand size)
Dimensions:- approx 122 x 38.5 x 66mm, Grip Width: 55.3 to 62mm

Primary Buttons (right/left):- Pre-sorted Kailh GM 8.0 switches (80 million actuations)
Click Detection:- Analog Technology (<<1ms)
Number of Buttons:- 6 (2x top, 2x side, 1x mouse wheel, 1x CPI on bottom)
Wheel Encoder:- TTC
Mouse Wheel Scrolling:- 2-way
Middle Mouse Button:- pre-sorted Kailh GM 2.0 switches (20 million actuations)
Side Buttons:- pre-sorted Kailh GM 2.0 switches (20 million actuations)

Materials:- ABS (Chassis), PTFE (Glides), Dry Grip Coating (Surface)
Skates:- Hybrid Skate Design (small skates pre-installed, large skates included)
Weight:- ~63g

Connection Type:
- (2.4 GHz, Dongle: USB 2.0 Type A)
- wired (PC: USB 2.0 Type A, Mouse: USB-C)
Battery Capacity:- 335mAh

Cable:- Flex Cord 3.0 (1.80m, USB 2.0 Type A to USB-C)
Color:- Black
Included Accessories
As standard the XM2w comes with two sets of PTFE skates: large and small, as well as an additional sensor skate. The smaller skates are installed by default, however the XM2w's bottom shell is designed to make swapping the skates simple. The XM2w also includes a flex cord USB 2.0 Type A to USB-C as well as a dongle.
The XM2w is available in black or white for pre-order internationally immediately with an MSRP of $119.99 or regional equavalent. In the UK the XM2w can be
pre-ordered from OverclockersUK
with an MSRP of £99.95 inc. V.A.T. Shipping is expected to begin in Q2 2022.