PRESS RELEASE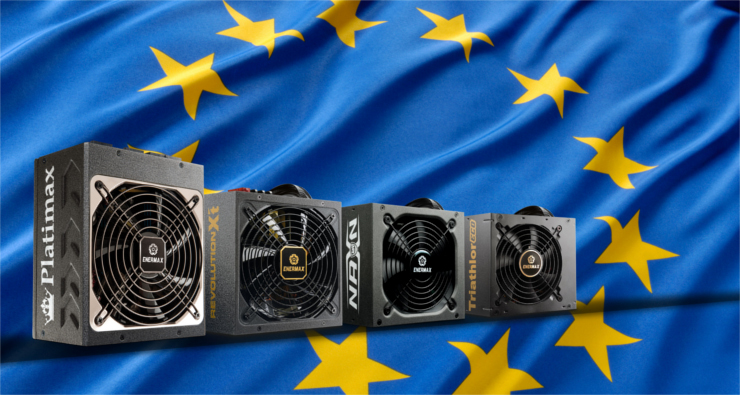 Hamburg, 24th of January 2014.
With the regulation no. 617/2013, the EU commission sets new "ecodesign requirements for computers and computer servers". It is another brick to complete the so-called
Ecodesign Directive (Directive 2009/125/EC)
. The target of this initiative is to drive forward the development of energy-efficient products within the EU.
The regulation will become valid from the 1st of July 2014. Amongst others, it will set new standards for the assembling of desktop computers. According to that, internal PC power supplies need to reach minimum 85% efficiency at 50% load as well as 82% efficiency at 20% and 100% of the rated power. This corresponds to the requirements of the international energy-saving certification 80 PLUS® Bronze. Apart from that, the EU demands a power factor of 0.9 at 100% load.
The EU regulation no. 617/2013 will also affect other PC components as well as the information obligation of manufacturers and assemblers of PC systems. It will become a part of the CE certification process of computers. In future, only desktop computers that comply with the single requirements of the new EU regulation will receive the CE marking.
At
www.enermax.co.uk/eu-regulation617-2013
you can download and read the new EU regulation.
All Current Enermax Power Supplies* Support the New EU Norm
Power supplies transform the alternating current from the wall socket into the direct current that is required to power computer components. The transformation process leads to energy losses which can be reduced by applying efficient components and circuits. Enermax belongs to the most famous manufacturers of quality power supplies worldwide and is playing a major role in the development of energy-saving technologies and products. Already in 2009, Enermax introduced the Revolution85+, a power supply which reached more than 90% efficiency at 50% load. Two years later, the manufacturer produced the next masterpiece: The Platimax power supply series achieves a peak efficiency of 94% and complies with the to-date highest demands for desktop power supplies, 80 PLUS® Platinum. Platimax covers the complete wattage range from 500 up to 1,500 watts.
Recently, the 80 PLUS® organization has raised the efficiency standards: The new Titanium seal encourages the advancement of contemporary power supplies towards even more efficient technologies. The Enermax R&D has already taken up the challenge and is working on a new PSU platform which has the potential to surpass the efficiency grade of current models. You can find background information about 80 PLUS® at www.80plus.org.
All latest Enermax power supplies* support the requirements of the new EU regulation for desktop PC systems. You can get an overview of the complete Enermax power supply range at [url=]www.enermax.co.uk[/url].
* except the NAXN models ENP350AGT, ENP450AGT and ENP550AGT.[/]i