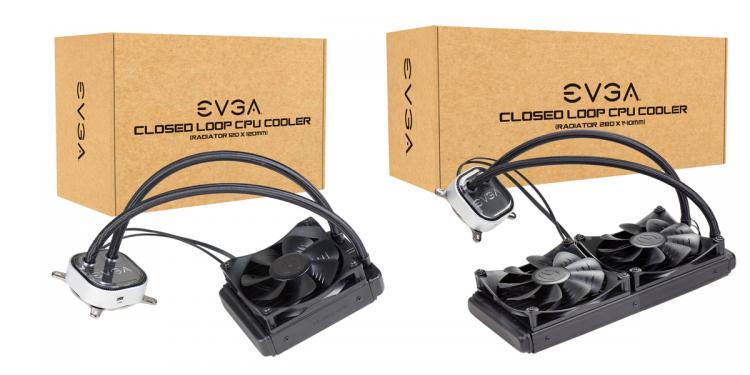 EVGA introduces two new closed-loop CPU liquid cooling systems, the
EVGA Closed Loop Cooler (CLC) 120 and 280
all-in-one liquid coolers. The cooling units feature low noise, RGB lighting on the water block module right on the EVGA branding and a robust software for you to manage temperatures and unlock your CPU to its fullest potential. Watch the installation and overview video of the EVGA CLC 120 and 280 on the video below.
Built to Perform
New cooling block offers improved flow rate and heat transfer surface area for incredible cooling efficiency.
RGB Lighting Sync
The EVGA CLC cooler's RGB lighting can be synced with select EVGA graphics cards, and match the colors directly from software. One button to control both RGB LED's! Color profiles even save to firmware.
New EVGA Fans
The fans on the new EVGA CLC 120 and CLC 280 coolers are built for superior cooling and lower noise. The curved housing reduces noise level and unique blade design offers incredible cooling performance. Teflon Nano Bearings ensure a long lifespan.
EVGA Flow Control Software
This EVGA software gives you full control over your EVGA CLC Liquid Cooler including, fanspeed/curve, RGB lighting, Pump Control, Profiles and more! Also, the fan settings and lighting save to firmware meaning you can set and forget. The software is currently under development and would be released on a later date.
Features
- All-in-one cooling solution that is completely self-contained. No filling, no custom tubing, no maintenance. Just plug and play.
- Intelligent wiring system and sleeved tubing makes this one sleek cooler without the messy wires.
- Copper base provides maximum heat transfer.
- Built in radiator and fans help dissipate the heat keeping the CPU as cool as possible. Fan can also be swapped or customized.
- Compatible with current and future Intel and AMD sockets.
- Teflon Nano Bearing in the fans reduce noise and increase lifespan, while the curved housing improves air flow through the radiator to limit vibration and noise.
- Variable controlled fans allow dynamic fan speed based on CPU temperature, and the water cooling efficiency means the fans can operate at a lower speed to reduce noise.
Specifications
Waterblock
- Premium Retention parts for Intel LGA2011/1150/1151/1155/1156/1356 and upcoming variants
- AMD retention ring for supporting AM2/AM3/FM1/FM2 and upcoming variants
- 100% Copper
- Fully controllable RGB LED
- Noise Level = 20dB(A) (MAX)
Radiator
- Aluminum
- EVGA CLC 120 - 156mm X 122mm X 28mm (LxWxH)
- EVGA CLC 280 - 312mm X 139mm X 27mm (LxWxH)

EVGA CLC 120 Fan
- Size: 120 x 120 x 25mm
- Teflon Nano Bearing
- Speed = 500-2400RPM
- Airflow = 74.82 CFM (MAX)
- Static Pressure = 4.04 mmAq (MAX)
- Noise Level = 16.0 dB(A) (MIN) – 39.9 dB(A) (MAX)

EVGA CLC 280 Fan
- Size: 140 x 140 x 25mm (x2)
- Teflon Nano Bearing
- Speed = 600-2200RPM
- Airflow = 113.50 CFM (MAX)
- Static Pressure = 4.20 mmAq (MAX)
- Noise Level = 16.0 dB(A) (MIN) – 39.5 dB(A) (MAX)
- Lifespan = 80,000 Hours
EVGA gives both the CLC 120 and CLC 280 CPU Liquid Coolers a limited 5-year warranty. According to EVGA via their podcast, a 240mm radiator version is also under development. EVGA is also developing an AM4 bracket to be released soon for the upcoming AMD Ryzen processors. EVGA is also developing a model with quick-disconnects for easy cleaning and installation. For more details on the EVGA Closed Loop CPU Cooler (CLC) 120 and 280, visit the
EVGA website
.