Are you sick and tired of changing graphics options when a new game comes out to get the best out of your hardware? Well if you are this little tool will come in handy. Towards the end of last year we brought to you the news of NVIDIA's closed beta of the GeForce Experience. This great concept, which was downloaded by over 40,000 gamers is now in open beta which means anyone can get it.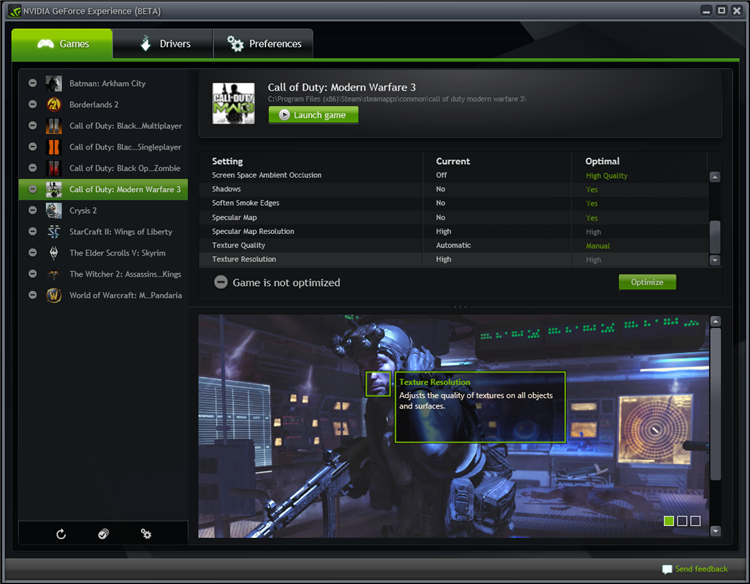 Last month, NVIDIA released GeForce Experience as a closed beta. Over 40,000 gamers downloaded the application and we received a tremendous amount of feedback. In the past month our software team has been busy incorporating that feedback and making improvements. Today, we're pleased to announce that GeForce Experience will be available as an open beta for anyone to download and try out.
With over 40 games now supported the chances of a game you want to play being in the list is good and getting better. See the release notes below for some more information.
GeForce Experience 1.0.1 Release Notes
Expanded game support, including FarCry 3, Mechwarrior Online, and Hawken. GFE now support 41 titles.
Core 2 Duo and Core 2 Quad CPU support in most games. More to come.
Dramatically improved game detection logic.
Added optimal playable settings for 2560 x 1440 displays.
Improved translations for Chinese, Danish, and UK English.
Improved performance for client startup, billboard display, game scan, and communication with NVIDIA servers.
Numerous bug fixes and improvements.
Do you want to try this out? Well go here to download the application and comment below or in our forums with your GeForce Experience.
Source: www.geforce.com