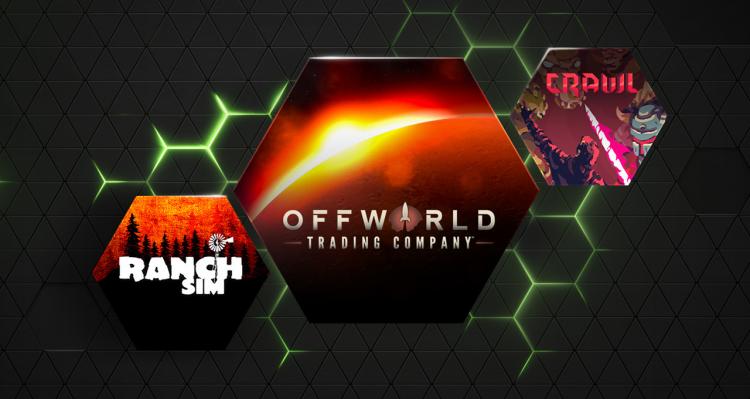 NVIDIA's GeForce NOW
development team continue to do sterling work in keeping the premium streaming platform up-to-date with the latest titles alongside adding some older classics. Well over a thousand games can be played on the subscription service today, including a bumper 35 that joined just this month, and NVIDIA are closing out the quarter by getting in a handful more just under the wire.
For those unfamiliar with GFN, the premise is simple. If you own a game - through Steam, the Epic Games Store or Uplay for instance - you should be able to play it on NVIDIA's remote servers with a GFN subscription. Free subs are available - limiting both play session length and the remote hardware you're playing - but paid subs grant access to systems powered by RTX 30-series hardware and thus unlock advanced visual features including ray traced lighting.
Sounds neat right? But there's more.
The power of the system you're connecting to GFN doesn't have to be great. In fact, it can be almost a literal toaster (if a particularly smart one). The service is playable on Chromebooks, iOS Macbooks and laptops without even a discrete graphics card; so long as you have access to the GFN app or Chrome browser, there's a great chance that nearly your entire personal game library will be playable remotely.
More than 20 titles are expected to arrive in April, some more recognisable than others, but newly available to play this week through the service are the following:
Also added to the platform somewhat unceremoniously over the past month were instant classic
Tunic
, Early Access strategy game
Highrise City
, party-based roguelite
Conan Chop Shop
, and more besides. NVIDIA try to sneak everything into their GFN Thursday announcements and monthly sneak peeks, but some still get in under the radar.
For more information on GeForce NOW as a platform, the subscription tiers and compatible games, visit
https://www.nvidia.com/en-gb/geforce-now/
.