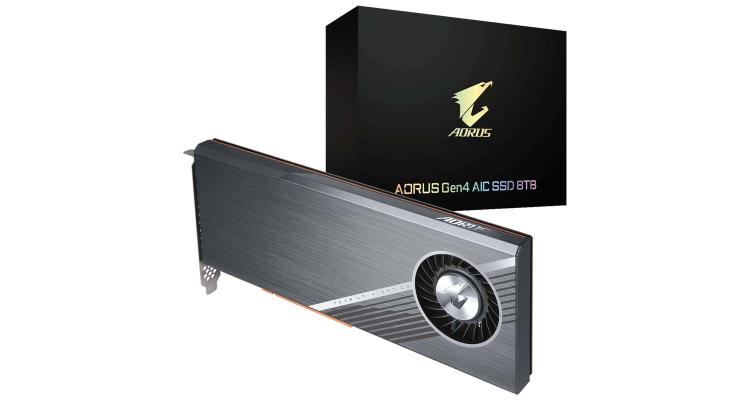 GIGABYTE launches the AORUS Gen4 AIC SSD 8TB with speeds of up to 15,000MB/s sequential read and 15,000MB/s sequential write. The AORUS Gen4 AIC SSD 8TB was first presented at Computex 2019 which we had a first look along with the AORUS PCIe NVMe Gen4 M.2 SSDs. The prototype and the final model have a few differences with its aesthetics on the aluminium shroud wherein the AORUS logo is moved to the fan. The AORUS Gen4 AIC SSD 8TB will still be sporting four 2TB AORUS Gen4 NVMe M.2 SSDs like the prototype demonstrated at Computex 2019. The AORUS Gen4 AIC SSD 8TB features a single-slot design and uses pure copper finned heatsinks with dual-sided cooling pads to keep the M.2 SSDs installed inside cool.

The AORUS Gen4 AIC SSD 8TB comes with the GIGABYTE exclusive AORUS Storage Manager for RAID configuration. The AORUS Storage Manager also offers real-time monitoring on both SSD temperatures and fan speed. AORUS Gen4 AIC SSD 8TB has 8 thermal sensors for users to monitor the four M.2 SSDs. Using the AORUS Storage Manager, users can select one of the three different fan modes for silent and effective cooling. GIGABYTE also officially introduces the AORUS Gen4 AIC Adaptor without M.2 SSDs which we published earlier this month.
AORUS AIC Gen4 SSD 8TB Prototype at Computex 2019
AORUS AIC Gen4 SSD 8TB (Final Product)
"With advancements in both hardware and flash memory, users are going to need higher bandwidth to gain access to faster transfer speeds and performance. PCIe 4.0 offers up to 32GB/s (x16) bandwidth and leads a new era of impressive storage performance," said Jackson Hsu, Director of the GIGABYTE Channel Solutions Product Development Division. "At COMPUTEX 2019, our PCIe Gen4 SSD and 8TB AIC SSD not only received a lot of applause, we also received a lot of questions regarding these exciting new products and their launch dates. With the launch of the AORUS Gen4 AIC SSD 8TB, the wait is over and users can now try this new, advanced storage solution. We're also releasing an AORUS Gen4 AIC Adaptor which is compatible with NVMe M.2 SSDs so it offers a lot of value for those seeking ultra-high performance at a competitive value."
No information on pricing and availability as of this writing. Learn more about the
AORUS AIC Gen4 SSD 8TB
here.